My wife and I along with fellow real estate investor friends attended a Tax Foreclosure Auction in Marikina City last November 13, 2008.
Although I did not win the bidding for any of the Marikina tax delinquent properties that I was interested in, the time was well worth it as I had learned so much from the experience.
I would like to share with you what we learned. Here goes the 9 lessons we learned from attending the tax foreclosure auction…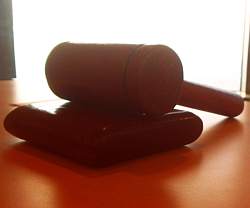 1. It's okay to buy properties with mortgages.
In case you win the bidding and then the property got foreclosed by the bank where it was mortgaged within the 1 year redemption period, the bank will be the one to pay the local government the real property tax deficiencies, not the owner. When the bank pays, you get your money back, which is the full purchase price (your winning bid) plus the 2% interest per month.
If it's not foreclosed, then you get the property after the 1 year redemption period and you'll most probably assume the mortgage. Yes, you get the property for what the previous owners owe the bank, which is a bargain especially if the previous owner had an equity of 30% or more. Sounds tempting but if this happens, you need to eject the previous owner. More on this later.
2. Check the Transfer Certificates of Title (TCTs) at the City Treasurer's office.
I wasted my time going to the Registry of Deeds where only 1 out of 9 TCT's of properties I was interested in could be found. The rest were probably being annotated hence they were not in the records section. I could have just checked with the City Treasurer's office directly. I could have probably checked more TCT's and I could have bidded for more. As a general rule, I don't bid on properties unless I have checked the TCT's for authenticity, encumbrances, etc.
3. Choose properties that have been delinquent for only a short period of time.
These are most probably newer and in better condition, hence, owners would be more inclined to redeem them. Properties that have been delinquent for 10 years or so, would most probably have owners that have little capacity to pay or have no intention of redeeming the property. Moreover, you will most probably have a hard time ejecting them and even if you are successful, you have a lot of repairs to take care of afterwards.
4. Keep in mind that your objective is to earn interest from your investment.
Your winning bid will earn at an interest rate of 2% per month or 24% per year if it takes a year for the owner to redeem the property. Don't have the mindset that the property will not be redeemed and that you are in effect buying the property for the bid price only. In the unlikely event that the property is not redeemed, you will have to eject the previous owner. And most probably, the previous owner will not go away without a fight.
Next step would be to file an ejectment case and this is something you should avoid as much as possible, because they take years to resolve and will cost you a lot of time, money, and effort, not to mention mental anguish and sleepless nights. We met someone during the bid who said 2 properties she bought in previous auctions were not redeemed and they are now having a very hard time ejecting the previous owners. Not a pleasant situation you'd want to get stuck in.
5. Don't choose a property that does not have an annotation fee listed on the list of properties for auction.
If there's no annotation fee, this means that the local government was unable to annotate the levy of execution on the TCT, and this implies that the TCT is missing or has other problems. You wouldn't want to end up with a property with a lot of problems, would you? Para kang kumuha ng batong ipupukpok sa ulo mo pag nagkataon. Instead of earning money from the auction, your money may be tied up to a non-performing asset which no one in their right mind would buy.
6. Observe, mingle, and network with fellow bidders.
Most of the ideas I wrote above came from a conversation I had with a fellow bidder who turned out to be a real estate investor that had been acquiring properties for sometime already through tax foreclosure auctions. We were quite lucky that she was very generous in sharing her knowledge and was open to my questions. Although she outbidded me on the properties on my list, it was okay as I learned a lot from her.
After the auction, I was able to exchange calling cards with her and a number of other real estate investors and we also chatted with each other for a while. I found probable future partners and mentors.
7. Get your hands on the listing as soon as possible so you can check more properties and have more options.
You'll also have a better chance of acquiring more properties. It really is a numbers game. Just remember to set a maximum bid for each property and don't ever get carried away and bid higher than the ceiling you have set. The auction can get very exciting and you may be "challenged", so to speak, by another bidder who keeps out-bidding you. Don't let your competitive spirit get the better of you.
8. On a practical note, do come early for the auction.
The Marikina Tax Foreclosure Auction was scheduled at 10 am but I was there at around 8:30 am and was able to find parking space easily. I didn't have to rush with the registration. I was the no. 5 bidder and could get choice seats. Sit at the front so that you can be easily seen by the auction master.
When bidding, raise your number high and speak loudly and clearly so that your bid will be counted. The auctioneer, in his desire to raise the bid amount, can speak very fast and the bidding can go by in a flash. You have to be on your toes and bid quickly and with confidence. In the Marikina auction, the auctioneer just said "Any bid higher than PhpXXX? Going once, going twice, Sold to no. XX for PhpXXX!" and banged the gavel, signaling the award of the bid to the winner.
There were times when a bidder raised his number and mentioned his bid merely seconds after the auctioneer banged the gavel, but nothing could be done anymore. Take note that the banging of the gavel is the signal of the end of the auction for a particular property. If you really want a property and the bid amount is still within your set ceiling, don't be shy! Raise your number high and shout your bid if you must. Otherwise, you may end up with regrets.
9. Don't be afraid to ask questions to the auction team.
You may ask for clarification on certain matters – for example, if the property being auctioned is the building only (this sometimes happens, although it's weird that the land is not being auctioned off). I even checked the TCT's of some properties minutes before they were auctioned.
(Disclaimer: Please check if the above observations apply to your area. If in doubt, consult your lawyer or the legal staff at the auction prior to bidding)
Another thing worth mentioning was that the properties for auction had pictures displayed along with property details at the city hall lobby! I believe the Marikina city hall staff outdid themselves in handling a very organized auction. The auction committee was present as well as legal and other staff. The rules and regulations governing the auction were given to all bidders. Read them here.
It's better to study the rules before you go to an auction. Answers to questions such as, "Does the local government get the bid amount in excess of the delinquent taxes?" or "Does the 2% interest per month apply to the bid price or to the amount of delinquent taxes only?" or "Do I have to pay the entire bid price immediately?" are found in the rules.
I noted too that there were actually visitors from San Juan's Treasury Office, probably noting the best practices which they would want to apply when they have their own tax foreclosure auction. Don't worry, I'll post details for the San Juan City Tax Foreclosure Auction once I get any information on this. If you don't want to miss the listing, I suggest you subscribe to my mailing list.
How about you, have you been to any tax foreclosure auctions here in Metro Manila, Philippines or do you know of any upcoming ones? Please do let me know by leaving a comment below.
See you at the next auction!
Do you want to start investing in foreclosed properties? Enter your e-mail address below and keep yourself updated with foreclosure listings, public auction schedules, and real estate investing tips!
Do you have a friend who wants to start investing in foreclosures and could use some help? You can also share this to them through e-mail, just use the share buttons to the left.