Important update – Please read! This auction has been rescheduled to November 16, 2017, as per bid bulletin posted on PDIC's website. Please be guided accordingly.
BID BULLETIN # 1
20 September 2017

The public is hereby informed of the resetting of the conduct of public bidding of PDIC and various closed banks' properties at the Bangko Sentral ng Pilipinas – Legazpi Branch, Barangay 18, Rizal St. Cabagñan, Legazpi City from September 28, 2017 (Thursday) to November 16, 2017 (Thursday).
The Philippine Deposit Insurance Corporation (PDIC) continues their series of auctions with another sealed bidding of their foreclosed properties and also from closed banks on September 28, 2017 November 16, 2017. More than 100 foreclosed properties are included in the list, plus a couple of repossessed cars. Details can be found below.
As per Invitation To Bid, sealed bids shall be accepted at the Bangko Sentral ng Pilipinas – Legazpi Branch, Barangay 18 Rizal, St. Cabagñan, Legazpi City
Sealed bids shall only be accepted from 9:00am to 2:00pm.
These foreclosed properties included in the listings below are for sale "for CASH" and "as-is, where-is" basis, so make sure that you have done your due diligence before submitting your bid(s).
The list of foreclosed properties can be viewed inside our foreclosed real estate database, and you may also download the list through the invitation to bid below.
Download invitation to bid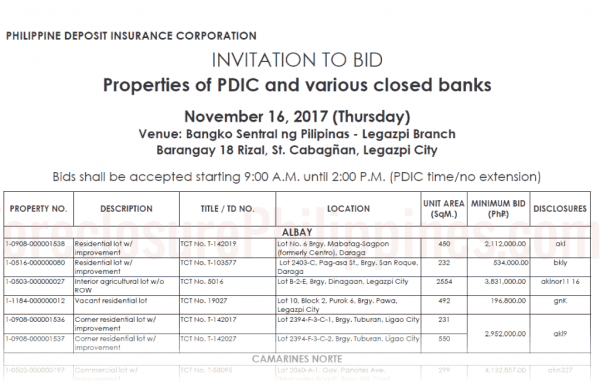 Click to download PDIC's Invitation to Bid for the sealed bidding on November 16, 2017
Note: You will need Adobe Acrobat Reader to view PDF files, which is free to download at Adobe.com
Source: PDIC website
Who to contact to get more details?
As stated in the invitation to bid:
Complete description of the properties is available at the Asset Management and Disposal Group, PDIC 7/F SSS Building, Ayala Avenue cor. Rufino St., Makati City.

For further information, you may call PDIC's Public Assistance Department at:

Tel. No. : (632) 841-4630 to 31
Toll free : 1-800-1-888-7342 or 1-800-1-888-PDIC
Email : pad@pdic.gov.ph
Full disclosure: Nothing to disclose. The PDIC bidding is for direct buyers only. We are posting this as a form of public service because a lot of you out there have been asking for these listings.
If you have any questions/inquiries, please contact PDIC directly through the contact details in the invitation to bid above. Thank you for understanding!