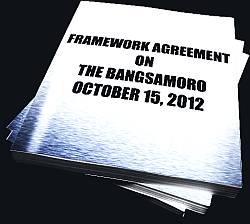 A lot of people already know that the Philippine Government and the MILF have signed the Framework Agreement on the Bangsamoro last October 15, 2012, but will this have any impact on Philippine Real Estate?
I believe so.
With an area of more than 97,000 sq km, Mindanao comprises about a third of the total land area of the Philippines (300,000 sq km). It is very rich in natural resources, and obviously, land is one of them. Mindanao is very fertile and ideal for agriculture and once tapped, I would not be surprised if it becomes a major player in supplying food to the world, addressing the global issue on food security.
It is common knowledge that what's keeping Mindanao from attaining its full potential is the peace and order situation in the area. With the signing of the Framework Agreement, which was witnessed by international leaders and covered by international media, there is hope that Mindanao will finally awaken and take its rightful place as a major contributor to Philippine development.
What is the Framework Agreement on the Bangsamoro?
To know what the Framework Agreement on the Bangsamoro really is, you may download and read a copy of the signed agreement through this link. (Source: opapp.gov.ph)

What is the impact of the signing of the Framework Agreement on the Bangsamoro?
Basically, the stabilization of the peace and order situation in Mindanao will be bringing in investors to the region.
The United States,through the US Agency for International Development (USAID), has long been investing in Mindanao and is poised to reap the fruits of its investments.
Malaysia will be infusing investments into Mindanao as well.
Recently, too, it was heard that the world's largest producer of crude palm oil is eyeing investments in Mindanao.
GMA News, in a recent report, also said that the Framework Agreement and the peace it could bring will attract investors from all over the world.
What does this have to do with real estate?
With business investments pouring in, investments in real estate should not be far behind. Agricultural lands will be more valuable as they can be tapped to produce more food and palm oil for cooking, among others.
As more people have gainful jobs, there may be more opportunities to sell properties for malls or commercial areas. Likewise, more people will have the purchasing power to buy their own homes.
Some might engage in speculation and buy lands now while they are still priced low, and hold them to sell later when prices increase. Others may buy lands for food production, palm oil production, rubber production, or some may invest in areas near aquatic resources, and these investments may yield handsome returns.
Property rights
Note that there is also a provision in the Framework Agreement where the government will pay the Bangsamoro people who were deprived of land that is rightfully theirs. As to how they will determine which lands are covered, who are the rightful owners, and how they will determine the proper amount of reparation, I really don't know how they will do these at the moment. I guess the regulations on this will be drafted soon.
Hoping for the best
The future looks bright for Mindanao, and is something to look forward to. Thanks to the members of the negotiating panels and everyone who worked hard for the Framework Agreement, the dream of a peaceful and prosperous Mindanao is within reach. Let us all hope for the best!
~~~
To our success and financial freedom!
Cherry Vi M. Saldua-Castillo
Real Estate Broker, Lawyer, and CPA
PRC Real Estate Broker License No. 3187
PRC CPA License No. 0102054
Roll of Attorneys No. 55239
Text by Jay Castillo and Cherry Castillo. Copyright © 2008 – 2012 All rights reserved.
Full disclosure: Nothing to disclose.