The Philippine National Bank – Special Assets Management Group (PNB-SAMG) invites all interested parties to a public sealed bidding of prime properties of PNB, which will be on October 25, 2012, Thursday, at the 9th Floor, Financial Center, President Diosdado Macapagal Blvd., Pasay City, Philippines. Bidding starts promptly at 10:00am.
Aside from Prime foreclosed properties located in the Metro Manila, Luzon, Visayas, and Mindanao areas, included on the list are a few repossessed cars. Get a sneak peek of the foreclosed properties for sale below.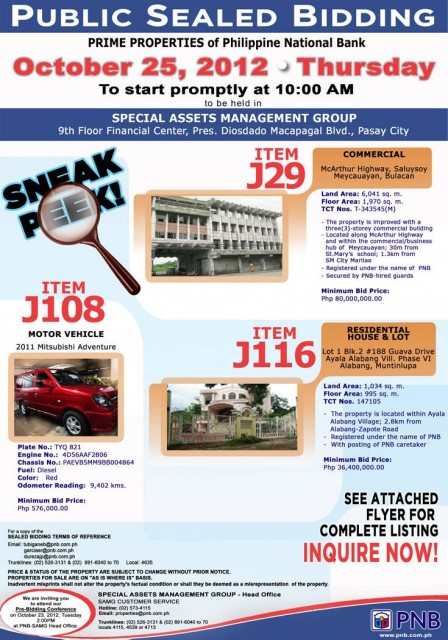 Download the complete list of PNB foreclosed properties
A pre-bidding conference will be held on October 22, 2012, Tuesday, 2:00pm, at the PNB-SAMG head office.
For more details. please contact PNB-SAMG directly through their contact details which can be found on the listing.
The "fine print"
Auctioneer reserves the right at any time to pull out orupdate status of the properties in the event discrepancies are found.

PROPERTIES FOR SALE ARE ON AN "AS IS WHERE IS BASIS"

Inadvertent misprints shall not alter the property's factual condition or shall they be deemed as a misrepresentation of the property.
Happy hunting!
~~~