Our friend Heinz Bulos of Learning Curve Inc., was kind enough to give free tickets for our valued subscribers for Day 1 of the 8th Money Summit and Wealth Expo, which will be happening this July 16-17, 2015. Five (5) lucky people will win a pair of tickets each, and the deadline for the submission of entries will be on July 9, 2015, 5:00pm. Learn how to join below.
Time left to join:
How to join:
Five (5) lucky subscribers will win two (2) tickets each (worth Php1,800.00).
Only e-mail subscribers of ForeclosurePhilippines.com can join and win. If you are not yet a subscriber, you can do so through this link: Subscribe to ForeclosurePhilippines.com. (It's 100% free, and you can download a copy of our 60-item Property Due Diligence Checklist as our gift!).
Submit your entry on the giveaway page, or click on the button below.
Important: All winners must confirm their attendance to the Money Summit on July 10, 2015. Failure to do so means the tickets will be forfeited and other winner(s) will be randomly drawn.
Goodluck everyone!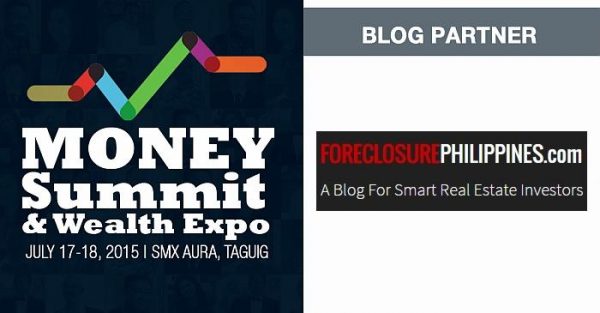 (Note: To learn more about the Money Summit and Wealth Expo 2015, click here)