In a recent comment, I said I will try to get some complimentary tickets for the Money Summit and Wealth Expo 2012, but I'll give them away through a raffle. Here's good news… they're here! I'll be giving away one conference ticket each to 2 very lucky readers out there! At pre-registered rates, these conference tickets are worth Php4,497.00 each. Checkout how you can join the raffle below.
The Money Summit and Wealth Expo 2012  is the biggest investing conference and expo in the Philippines where you can learn about forex trading, money markets, stocks, bonds, mutual funds, real estate investing, and more! If you want to attend the conference for free, here's your chance…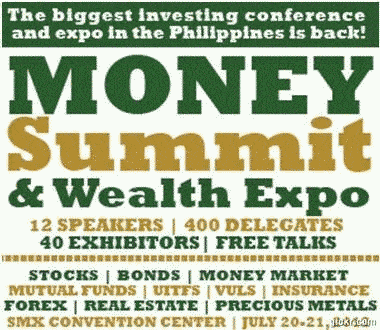 You can join the raffle by submitting entries starting today. The last day for submission of entries will be on July 10, 2012, at 12:00pm (Philippine time). I will announce the winners here within 48 hours after the contest ends.
How to join
Joining is easy, you just have to do the tasks listed in the Rafflecopter widget below, while using either your Facebook account or any valid email address. For each completed task, you will earn the corresponding number of raffle entries as shown below. The more entries you earn, the more chances of winning.
Winners will be chosen randomly at the end of the contest through Rafflecopter, which is powered by Random.org.
Goodluck to everyone!