Just a quick heads-up, I have just added 287 foreclosed properties in our database, with an aggregate selling price of Php 159,989,150.00. These properties are located nationwide, with prices ranging from Php115,000.00 to Php1,800,900.00. All properties includes pictures and a vicinity map.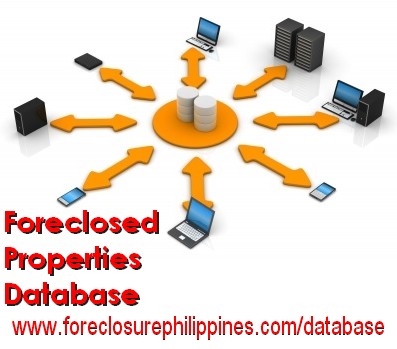 The cheapest foreclosed property included this update is a house and lot in Soldier's Hill Subdivision, Barangay Bulua, Cagayan De Oro City, Misamis Oriental. It has a lot area of 49 sq.m. and a floor area of 29.25 sq.m., with an offer price of just Php115,000.00, under Account Number 2285364  … [Click here for more details]
The most expensive property on the list is a house and lot in Camella Homes-Woodhills, Barangay San Antonio, San Pedro Laguna. It has a lot area of 71 sq.m. and floor area of 140 sq.m., with an offer price of Php1,800,900.00, under Account Number 0769832. [Click here for more details]
To access the rest of the listings included in this update, please click on the following link:
How to inquire and get more details
To get more details, please call the following numbers during office hours, and please make sure you have the Account Number ready when you inquire.
756-6330
756-6376
756-6230 local 303, 332, 385, 388, 479, 490, 510, 543, 546, 551, 582
You may also fill-up the respective inquiry form of the property you are interested in.
Disclosure and disclaimer
*- Offer prices subject to change without prior notice.

**- We do not make any representations of the properties that can be accessed through the links above. We encourage interested parties to make an ocular inspection of the properties – these are sold on an "As is, Where is" basis and the pictures may vary from the actual condition of the properties.
Other database updates
We also deleted more than 120 sold properties, which means our database is fully updated with regards to this particular listing. For other listings that are not updated, we have removed them temporarily.
The database currently has 2,284 foreclosed properties and you may access them all through the database home page:
Much has been happening behind the scenes to improve the database, and we are also implementing changes that will help ensure inquiries are responded to in a timely manner. We will announce more details once things are finalized. If you have any comments and/or suggestions, we would appreciate them very much. Please let us know through the comments section below.
Thank you and happy hunting!
Image courtesy of Renjith Krishnan/FreeDigitalPhotos