Buena Mano has just released their latest catalog of real estate property listings tagged as their "Jade Issue", which includes properties from the Greater Metro Manila area. According to the catalog, it is their January 2014 issue, although I believe this can also be referred to as their Q1-2014 catalog (I think it's too late to be referred to as the Q4-2013 catalog).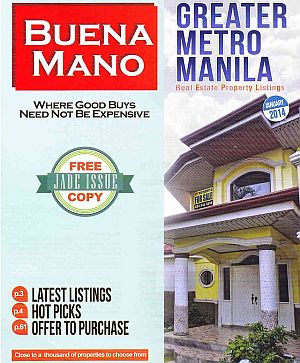 Why did they call this the "Jade Issue"
I was able to get a copy of the catalog during a recent event where a small group of accredited real estate brokers were in attendance, including me, and I was able to talk to Mr. Budz Reyes, one of the top guys at Buena Mano. According to Mr. Reyes, the catalog is called the "Jade Issue" because it is the 35th issue of the catalog. In the catalog, it also says…
"The focus on catalogue series rather than annual count was meant to emphasize our dedicated mission to deliver well-suited properties to our clients in every printing cycle of the catalogue."
In terms of years, this is already the 10th year of existence of the Buena Mano catalogs for which I congratulate them. This also makes me think, I should have seen these catalogs sooner!
I remember the very first issue of the catalog I saw was released way back in 2007 where I saw a very promising property as described in my post: I failed to grab my first real estate investment property… so what?! Just keep moving forward!
Although that deal did not push through, I was hooked ever since, and I made sure I got a copy of the Buena Mano catalogs each quarter, which I always feature here (almost always).
Access the Buena Mano catalog and our "wiki"
You can already download a soft-copy of the catalog through our dedicated page for the most recently released issues, along with information for buyers, in a "wiki" format. Please access them all through the following link:
By the way, we would appreciate your comments and/or suggestions on that page. Thanks!
Happy hunting!
~~~
To our success and financial freedom!
Jay Castillo
Real Estate Investor
PRC Real Estate Broker License No. 3194 
Blog: https://www.foreclosurephilippines.com
Connect with us – Facebook | Twitter | Blog RSS | Google +
Text by Jay Castillo and Cherry Castillo. Copyright © 2008 – 2013 All rights reserved.
Full disclosure: I am an accredited real estate broker of Buena Mano Property Sales and Leases. If you learned about this list of properties through me, my site, or through the digitized version of the catalog, kindly acknowledge me as the accredited broker who referred you in the Offer To Purchase form.
Disclaimer: The properties on the catalog above are for sale on an "as is where is basis". All are advised to do the necessary due diligence before entering into a binding commitment financially or otherwise in relation to any of the listings of foreclosed properties published in ForeclosurePhilippines.com. Inadvertent misprints shall not alter the factual condition of any property published in ForeclosurePhilippines.com, nor shall they be deemed as misrepresentation.