As promised, here is the Buena Mano Q3-2011 Luzon Catalog. This time around, I found a sweet spot with my scanner software when I created my own softcopy  of the whole catalog and it is just 3.69MB, which is so much smaller than my previous results.
Anyway, the Luzon catalog of acquired assets for sale for the third quarter of 2011 also features  Green Tag, and Yellow Tag properties, just like the Q3-2011 Greater Metro Manila Catalog. However, the Luzon Catalog also includes Red Tag properties. Please refer to the catalog to know exactly what the Red Tag property classification means.
Download the Buena Mano Q3-2011 Luzon Catalog
A softcopy of the Buena Mano Q3-2011 Luzon Catalog is ready for download. Just click on the image below. This catalog is also available at most BPI branches.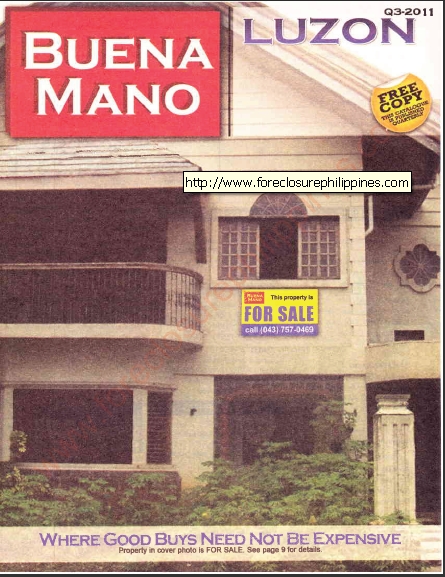 Interested in any of the properties?
If you are interested in any of the properties in the Q3-2011 Luzon Catalog and need assistance, please leave a comment below or you may also contact Roel or Cecille through the following contact details and they will be more than glad to assist. Please don't forget to include the property reference number(s) when inquiring.
Roel:
Call/Text: 513-2442/+63912-5169315
E-mail: good_rich23(at)yahoo(dot)com
Cecille:
Call/Text: 359-3250/+63917-8973133
E-mail: cecille_d_ph(at)yahoo(dot)com
Up next
The Visayas-Mindanao Q3-2011 catalog will be up next and is the last one for this quarter. Please watch for it.
Happy hunting!
~~~
To our success and financial freedom!
Jay Castillo
Real Estate Investor
PRC Real Estate Broker Registration No. 3194
Blog: https://www.foreclosurephilippines.com
Follow me in Twitter: http://twitter.com/jay_castillo
Find us in Facebook: Foreclosure Investing Philippines Facebook Page
Text by Jay Castillo and Cherry Castillo. Copyright © 2011 All rights reserved.
Full disclosure: I am an accredited broker and may earn broker fees/commissions from Buena Mano Property Sales and Leases.