Unionbank shall be having its 142nd Special Public Auction of foreclosed properties on August 29, 2009, Saturday, 9:00AM. Foreclosed properties included in this public auction are from the Visayas and Mindanao areas. The special public auctions shall be held simultaneously at the following venues:
Bacolod
Venue: Business Inn, Lacson St.
Cagayan De Oro
Venue: The VIP Hotel, Don Apolinar Velez St.
Davao
Venue: Davao Tower Inn, Quirino Avenue
For more information, please call (02) 637-1445/ (02) 638-0125/ (0906)2108828 or send an e-mail to esbabas@unionbankph.com. You may also visit their website http://www.unionbankph.com.
Only 10% downpayment is required, with the balance payable for up to 15 years at a  fixed interest rate of 13% per annum for the first 3 years, and then at a fixed interest rate of 15% for the next 12 years. I would suggest that interested buyers secure a sample computation to avoid any surprises. You may also try using this site's mortgage calculator to have an idea on the monthly amortizations.
Foreclosed properties included in the auction are residential, agricultural, and commercial properties and are from Bacolod, Mandalagan, Potatan Iloilo, Iloilo – Brgy. Pangi, Talisay City, General Santos City, Cagayan De Oro City, Cebu City, and Davao City.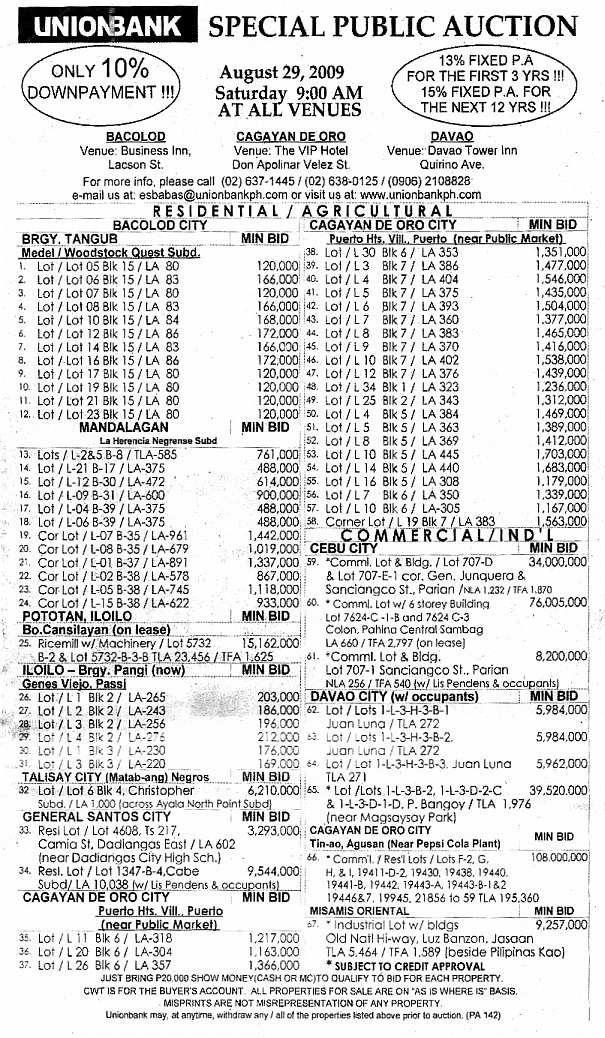 Click here to download the complete foreclosed property listing for Unionbank's Special Public Auction of Visayas and Mindanao  foreclosed properties.
(Source: Manila Bulletin, August 9, 2009 issue, Classifieds section)
Auction Requirements
Only Php20,000 Show Money(Cash or Manager's Check) is required to qualify to bid for each property.
I would highly recommended interested parties to do their due diligence before bidding on any foreclosed property as all properties are for sale on an "AS-IS WHERE IS" basis.
Do take note that Creditable Withholding Tax (CWT) is for the buyer's account so don't forget to consider this when doing the numbers like computing for the return-on-investment (ROI) if you decide to make use of the property as a rental property for example.
*Misprints are not misrepresentations of any property.
—–
Happy Hunting!
To our financial freedom!
Jay Castillo
Real Estate Investor
REBL#: 20056
Blog: https://www.foreclosurephilippines.com
Social Network: http://foreclosurephilippines.ning.com
Mobile: +639178843882
E-mail: ph.investor@gmail.com
Text by Jay Castillo. Copyright © 2009 All rights reserved.