Unionbank shall be having their 144th special public auction of foreclosed properties on October 17, 2009, Saturday, 9:00 AM, at the Delas Alas Room, 2nd floor, Philippine Columbian Sports Club, Plaza Dilao, Paco, Manila, Philippines.
The foreclosed properties for public auction include residential and commercial/agricultural real estate which are located in the following areas:
Residential foreclosed properties
Taguig City
Sta. Rosa City, Laguna
San Pedro, Laguna
La Marea Subdivision – Brgy. San Antonio
Quezon City
San  Juan – Addition Hills, Goldlane Exec. Hms, # 208 Ortega St
Makati City
Manila
Pasay City
Calatagan, Batangas
Laurel, Batangas
Meycauayan, Bulacan
Bulacan – Plaridel, Lalangan – Plaridel Heights Subd. (nr Rocka)
Bacoor, Cavite – Brgy. Molino
Mandaluyong
Antipolo City, Rizal (Residential Lots Only)
Tagaytay City (lots only)
Tagaytay City – Tagaytay Highlands PINE CREST CONDO
Dasmarina, Cavite – Brgy. Salitran (Vacant – Fairway Lots)
AMALFI Subdivision – Brgy. Paliparan
Commercial/Agricultural foreclosed properties
Batangas City, Batangas (Agricultural Lots Only)
Quezon City
Paranaque  City (near S & R)
Antipolo City
Meycauayan, Bulacan
Meycauayan, Bulacan – Brgy. Bahay Pari & Bagbaguin (Lots Only)
Tarlac City – Poblacion (Lots Only)
I got this listing of foreclosed properties from Mr. Kim Unidad of Unionbank. Prior to receiving this listing, I called him up just to confirm some details about Unionbank public auctions and also to ask that I be included in his e-mail list when he sends out invitations for any new and upcoming auctions of foreclosed properties. I also informed him that I intended to post this here in ForeclosurePhilippines.com.
Thank you Kim for accommodating my call earlier today and I really hope to have a chance to interview you soon so that I may also get answers to frequently asked questions from readers/visitors of ForeclosurePhilippines.com. To my dear readers/subscribers, please do leave a comment below if you have questions which you may want me to relay to Kim. Thanks.
Receiving an electronic copy of the Unionbank  listing of foreclosed properties is really a big help to me as my scanner is currently out of commission, thanks to Ondoy as seen below.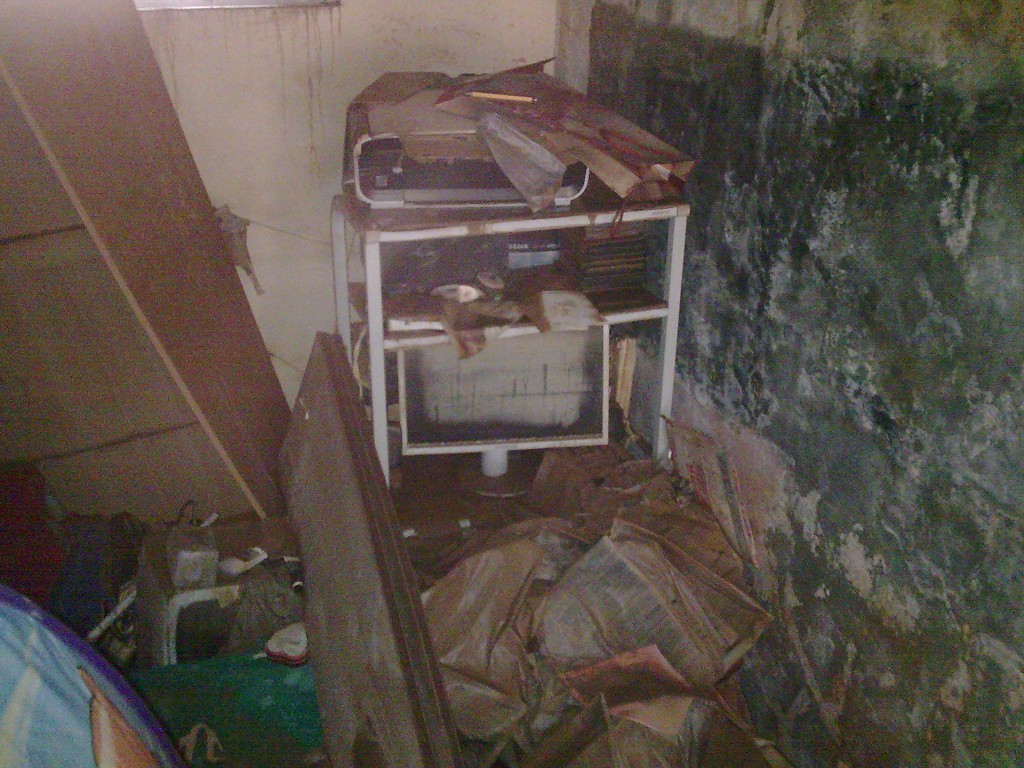 My desktop PC after Ondoy. It has served me well during the past 7 years. The scanner/printer/copier is the thing on top, which I intend to replace. I just hope the hard disk of my PC is still okay.
Anyway, I already had plans to buy a new scanner soon even before Ondoy's wrath as I already needed the functionality of a fax machine. My old scanner in the picture above can only scan, print, and copy.
Please see below the e-mail invitation for the 144th Unionbank public auction of foreclosed properties on October 17, 2009:
From: kim unidad <krvunidad@unionbankph.com>

Date: Mon, Oct 12, 2009 at 4:44 PM

Subject: 144th Special Public Auction October 17, 2009.pdf

mailed-by unionbankph.com

Greetings!

We would like to invite you again, together with your friends and your family members to …

UNIONBANK SPECIAL PUBLIC AUCTION !!!

UnionBank of the Philippines will conduct another half-day Public Auction of real estate properties on October 17, 2009 (Saturday) 9:00 am at Delas Alas Room, 2nd Floor Philippine Columbian Sports Club, Plaza Dilao, Paco, Manila.

Just bring PhP 20,000 show money (cash or manager's check) to qualify to bid for each property. The sale is on "as is where is" basis.

The properties for bidding consist of residential lots, house and lots, townhouses, condominium units, residential buildings, commercial lots, industrial lots, agricultural lots, commercial space, and industrial / commercial warehouses.  These properties are available for sale at reasonable prices. We offer 5% discount on cash sales and affordable credit terms, as follows;

Downpayment: 10%
Interest: 13% p.a. fixed for the first 3 years and 15% p.a. fixed for the next 12 years
Term: 15 yrs. (maximum) thru in-house guaranteed financing for residential properties

We have attached a list of the properties for your reference and dissemination. Should you wish to know more about these properties, please contact

Kim Unidad    D.L. 637-1445 T.L. 667-6388 LOCAL 8372

Doris Padlan    D.L. 638-0125 T.L. 667-6388 LOCAL 8358/8359

Junie Jamero    D.L. 638-0114 T.L. 667-6388 LOCAL 8352

Dong Quinsay    D.L. 638-0092 T.L. 667-6388 LOCAL 8349

Romel De Borja    T.L. 667-6388 LOCAL 8348

Eriq Villaverde    T.L. 667-6388 LOCAL 8373

E-mail Address  :     krvunidad@unionbankph.com
Yahoo Groups:     http://finance.groups.yahoo.com/group/UBP_ARG_Friends/

We look forward to seeing you at the auction!

Thank you.
Mr. Kim Richard V. Unidad
Sales Officer
Asset Recovery Group
Click here to download the complete listing of foreclosed properties included in Unionbank's 144th Special Public Auction on October 17, 2009. Don't forget to read the fine print and other important details.
Happy hunting and don't forget to stay away from flood prone areas as I have mentioned in my post about the top 5 things to consider when buying foreclosed properties(under 1. Location).
—–
To our financial freedom!
Jay Castillo
Real Estate Investor
Real Estate Broker License #: 20056
Blog: https://www.foreclosurephilippines.com
Social Network: http://foreclosurephilippines.ning.com
Mobile: +639178843882
E-mail: ph.investor [at] gmail [dot] com
Text by Jay Castillo. Copyright © 2009 All rights reserved.
P.S. – If you are a new visitor, please start here to learn more about foreclosure investing in the Philippines.
P.P.S – If you feel that anyone else you know might benefit from this post, please do share this to them and don't forget to subscribe to e-mail alerts and get notified of new listings of bank foreclosed properties, public auction schedules, and real estate investing tips. If your inbox is getting full, you may subscribe instead to my RSS Feed.