Tag: Tim Ferris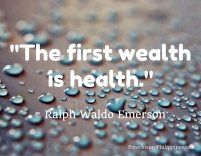 Ralph Waldo Emerson said "The first wealth is health.", and I agree. What's the use of investing in real estate if you have to sell them all to pay your ...
Read More › I recently answered an e-mailed question from a reader of Foreclosure Philippines who was also an attendee of the Think Rich Pinoy seminar held last November 21, 2009, where I ...
Read More › We say goodbye to 2009 and give thanks for a very memorable year. In 2009, we marked the first year anniversary of Foreclosure Philippines, although I never got around to ...
Read More ›