After discussing the Tarlac-Pangasinan-La Union Expressway (TPLEX) and the Cavite-Laguna Expressway (CALAx), we now feature the NAIA Expressway in our Road Network Series. Those who have investments in the Mall of Asia area and Cavite, as well those who are anticipating the rise of the Manila Solar City, should read this piece.
NAIA Expressway
Th
e NAIA Expressway Project aims to connect the three terminals of the NAIA to the South Luzon Expressway (SLEX)-Skyway and to the Manila-Cavite Toll Expressway (Cavitex), Macapagal Boulevard, and PAGCOR Entertainment City. This project is really needed because airports are the first stop of foreign investors and tourists so it is important that the airports are connected to smooth roads, and preferably, fast trains also.
Structure
According to the PPP website:
The project is a 4-lane, 7.75 km elevated expressway and 2.22 km at-grade feeder road that will provide access to NAIA Terminals I, II and III, and link the Skyway and the Manila-Cavite Toll Expressway. It starts at the existing Skyway then follows the existing road alignments over Sales Avenue, Andrews Avenue, Domestic Road, and NAIA Road, and has entry/exit ramps at Roxas Boulevard, Macapagal Boulevard, and PAGCOR City.
Cost
The project cost is P15.52 Billion. The San Miguel Corporation group has already paid P11 Billion upfront. The government will be shouldering P2.25 Billion to secure the right-of-way. Note that the P11 Billion does not include the construction cost, and the next highest bidder bid only P305 million. I wonder how much the toll fees would be.
The project will be under the Build-Transfer-Operate (BTO) scheme. The cooperation period is 30 years, inclusive of construction.
NAIA Expressway Map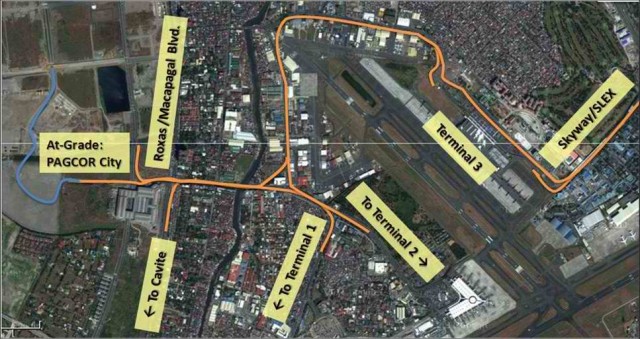 Current Status
It is expected that civil works for the phase which would link the Entertainment City to NAIA Terminals 1 and 2 would start by January 2014.
The target is for the NAIA Expressway to be finished in time for the Asia Pacific Economic Cooperation (APEC) Summit in October or November 2015.
The APEC Summit is a high-profile gathering of world leaders from 21 countries. The event is expected to put the spotlight on the Philippines and encourage foreign investments.
What do you think of this project?
~
Cherry Vi M. Saldua-Castillo
Real Estate Broker, Lawyer, and CPA
PRC Real Estate Broker License No. 3187
PRC CPA License No. 0102054
Roll of Attorneys No. 55239
2013 Internal Education Head, REBAP-LMP
Text by Jay Castillo and Cherry Castillo. Copyright © 2008 – 2013 All rights reserved.
Full disclosure: Nothing to disclose.