After featuring the Tarlac-Pangasinan-La Union Expressway (TPLEX), we now focus on the upcoming Cavite-Laguna Expressway (CALAx) Project. More details about CALAx can be found below.
Cavite and Laguna are two of the provinces that are booming nowadays. Developments are moving south and we can see that schools, offices, and business districts are already in the area. With the creation of road and transportation networks connecting the two areas to the cities, including CAVITEx, CALAx, and the LRT Line 1 Extension, the future indeed looks very bright for those with investments in Cavite and Laguna, specially those near the exits of the CALAx.
What is the Cavite-Laguna Expressway (CALAx)?
The CALAx is a four-lane, 47-km closed-system toll expressway connecting CAVITEX and SLEX (South Luzon Expressway). CALAx will start from the CAVITEX in Kawit, Cavite and end at the SLEX-Mamplasan Interchange in Biñan, Laguna. It is expected that the CALAX will decongest traffic in the areas it will traverse and reduce travel time from Metro Manila to the CALA area and vice-versa.
It will be under the Build-Transfer-Operate (BTO) scheme and with a total cost of P35 Billion. The cooperation period will be for 35 years, inclusive of design and construction. This project has the largest project cost among the current Public-Private Partnership (PPP) projects.
CALAx Map
Here is a map of the CALAx which I got from the PPP website: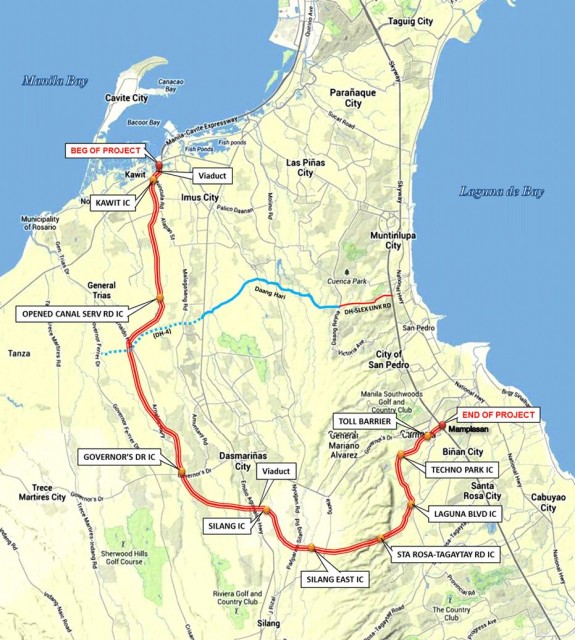 The interchanges will be located at the following areas:
Kawit

Daang Hari
Governor's Drive
Aguinaldo Highway
Silang
Sta. Rosa-Tagaytay
Laguna Blvd.
Technopark
Video and PDF presentations
Those who are living in or with investments in the Cavite and Laguna areas will surely be excited by the developments that will be brought by the CALAx. Watch the video and read the PDF presentation to see for yourselves.
Current status
On Auguat 16, 2013, the Department of Public Works and Highways-Special Bids and Awards Committee (DPWH-SBAC) held the first Pre-qualification Conference to meet prospective bidders for the Cavite-Laguna Expressway (CALAx) Project.
As of July 26, 2013, the interested firms include:
San Miquel Corporation
Korea Expressway Corporation
Alloy MTD Philippines Inc.
Macquarie Infrastructure Holdings (Philippines) Pte. Limited
Megawide Engineering Excellence
Leighton Contractors (Philippines), Inc.
Makati Development Corporation
AC Infrastructure Holdings Corporation
EGIS Projects Developer of Infrastructure & Service
Metro Pacific Tollways Development Corporation
Aboitizland, Inc.

Those companies who are interested in building road networks are usually also betting on developments in the area. By simply looking at the names, we can surmise that giants like San Miguel, SM (connected to Megawide), Ayala (connected to Makati Development Corporation), and the Manny V. Pangilinan group (connected to Metro Pacific) are interested to develop Cavite and Laguna.
The deadline for submission of pre-qualification documents will be on September 23, 2013. On those who pass the pre-qualification stage will be allowed to bid for the project. According to the schedule, ITB Issuance (Invitation to Bid) will be on September 27, 2013, Pre-bid conference will be on October 11, 2013, Bid submission will be on December 27, 2013, and the Notice of Award Issuance will be on January 3, 2014.
What can you say about this project?
~
Cherry Vi M. Saldua-Castillo
Real Estate Broker, Lawyer, and CPA
PRC Real Estate Broker License No. 3187
PRC CPA License No. 0102054
Roll of Attorneys No. 55239
2013 Internal Education Head, REBAP-LMP
Text by Jay Castillo and Cherry Castillo. Copyright © 2008 – 2013 All rights reserved.
Full disclosure: Nothing to disclose.