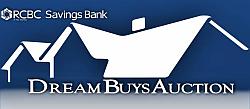 RCBC Savings Bank foreclosed properties will be up for grabs in their next Dream Buys Auction this coming September 29, 2012, Saturday, 9:00am, at the 6th floor, Development Academy of the Philippines Building, San Miguel Avenue, Pasig City, Philippines.
This Dream Buys Auction will include foreclosed properties from the Luzon and Metro Manila areas, although I also saw some foreclosed properties from Davao on the list.
Note: This time around, my wife and I shall be available to serve you as your duly licensed real estate brokers for the auction and afterwards. More details below.
Bid terms
Show money (this is refundable in case you don't win on your bid)
Php25,000.00 in the form of cash or manager's checks
Payment terms
Cash
Installment:

Minimum Downpayment for vacant lots is 10%
Minimum Downpayment for properties with improvements is 20%
Balance is payable up to 10 years at 12% fixed annual interest rate
Note: 25% downpayment is required to occupy a property 
Download the RCBC Savings Bank foreclosed properties listing
Properties on the list marked with an asterisk (*) which I have highlighted in yellow have special concerns (occupied/with legal impediments)
Forms for buyers:
How to inquire and get more details
To get more details about the auction and the foreclosed properties for sale, please leave a comment below and use a valid e-mail address and include your contact number (will not be published) so that we can get back to you as soon as possible. You may also send an e-mail to sales(at)foreclosurephilippines(dot)com.
By inquiring through us, you agree to recognize and acknowledge us as your real estate brokers/referrors. In exchange, we will assist you before, during, and after the auction. We offer these services at absolutely no cost to buyers.
Disclosure and disclaimer
All properties are sold on AS-IS-WHERE-IS basis. Properties and prices are subject to change without prior notice. The Bank reserves the right to withdraw any property before auction. Inadvertent misprints shall not alter the property's factual condition nor shall they be deemed as misrepresentation of the property.
Happy hunting!
~~~
To our success and financial freedom!
Jay Castillo
Real Estate Investor
PRC Real Estate Broker License No. 3194 
Connect with us – Facebook | Twitter | Blog RSS | Google +
Text by Jay Castillo and Cherry Castillo. Copyright © 2008 – 2012 All rights reserved.
Full disclosure: I am an accredited real estate broker of  RCBC Savings Bank.
PS – Don't forget to subscribe to e-mail alerts to get notified when we publish new listings of foreclosed properties, just enter your e-mail address below.