I believe one real estate sector where foreclosed property investors can focus on is the office market. Office space rental is a necessary and budgeted expense for companies who earn well so it may be worth considering as an investment.
You may either rent out office space or use the office space for your own business. I noticed this sector when I had clients who bought office space from banks, as the price per square meter is below market value.
Since many may not be familiar with the office market, one may ask, is there really growth in this sector? Are rental rates for office spaces really going up? How about vacancy rates, is there really a demand?
Where can I find current rental rates for office spaces in Metro Manila?
Have you ever thought of investing in commercial foreclosed properties like office spaces but have been wondering where to get rental rates? Think about it, you need this information to make sure the numbers work right?
I believe I have found a solution, through Pinnacle's Market Insight bulletin for June 2012 which discusses real estate outlook and most importantly, the average current rental rates of the Central Business Districts (CBD's) namely:  Makati, Bonifacio Global City, Ortigas, Quezon City, and Alabang.
Download Pinnacle's Market Insight
To view and download Pinnacle's Market Insight for June 2012, just click on the image below.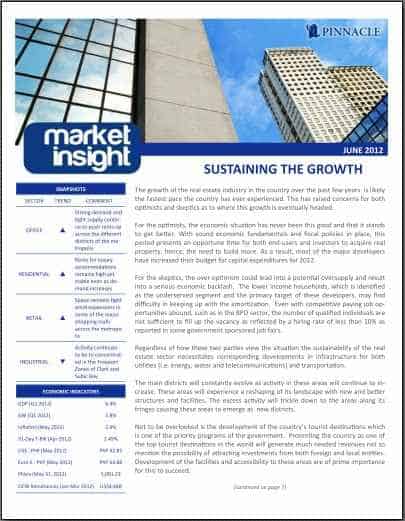 Pinnacle Market Insight June 2012 – Sustaining the Growth – PDF (Click to view/download)
You may also download it through this link: Pinnacle Market Insight June 2012 – Sustaining the Growth (PDF)
Aside from the current rental rates of office space in CBD's, what I like about Pinnacle's Market Insight bulletin for June 2012 is that it discusses the economics side of real estate in a "chewable" manner. Many people's minds would shut down at the mention of "economics" but it is really something that we should include in our evaluation of which assets to invest in. It's good that we need not do the nitty-gritty research on economics ourselves.  Also, Pinnacle's bulletin discusses other real estate sectors which investors may consider or look out for.
Luxury Residential market
Another real estate sector which you may consider investing in is the luxury residential sector, with expatriates as customers. According to Pinnacle's Market Insight bulletin for June 2012, houses in Forbes Park are rented out for as high as P500,000 per month, and luxury condominiums are rented out for as high as P250,000 per month.
Areas that will boom soon
With the government's PPP (Public-Private Partnership) initiatives, many expect that properties in places currently far from the CBD's will boom soon. It may be good to consider investing now while the selling prices are still not high. I have noted that banks have a lot of inventory as well in these areas.
Investors may consider investing in the Daang-Hari area, since as noted in Pinnacle's Market Insight bulletin for June 2012, the SLEx-Daang Hari toll road was already awarded to Ayala Corporation – this is the first project to be awarded under the PPP program.  Watch out too for the NLEx-SLEx  connector  road,  the LRT  1  Extension from Baclaran to Bacoor, Cavite, and the NAIA Expressway Project.
About Pinnacle

Pinnacle Real Estate Consulting Services, Inc. (Formerly Capital Servicing Advisors Phils., Inc.) provides a full range of services to local and foreign investors, buyers, and real estate lenders.

A team of experienced professionals is dedicated to enhancing the value of client investments throughout the Philippines.

Pinnacle's primary business lines are real estate asset management and brokerage, real estate closing and advisory services, and non-performing loan asset management.

In the field of real estate management, Pinnacle is involved throughout the entire lifecycle of a property from acquisition to disposition.

To support the management of clients' NPL assets, Pinnacle employs seasoned loan asset managers that provide our clients with maximum flexibility, and this is backed up by our cutting-edge loan servicing platform.

Pinnacle also offers an array of pre and post closing services including due diligence, title consolidation, payment of property taxes, desktop appraisals, property inspections and custodianship, financing arrangement and referrals, and sales documentation.

For more information on Pinnacle's services, please contact:

Michael Mabutol Tel.: +632-859-1021
Managing Director Email: mmabutol@pinnacle.ph

Neil Hagan Tel.: +632-859-1000
Executive Director Email: nhagan@pinnacle.ph

Raffy Dela Rosa Tel.: +632-859-1001
Director Email: jdelarosa@pinnacle.ph
Corporate Leasing

Ma. Therese (Audie) De Leon Tel.: +632-859-1026
Director Email: mdeleon@pinnacle.ph
Sales and Marketing

Leo Erwin Doplito Tel.: +632-859-1070
Director Email: ldoplito@pinnacle.ph
Property Operations

You can also contact Pinnacle Real Estate Consulting Services Inc.  through the following:

Office address:  Unit E-1 Garden Level Corinthian Plaza Building, Legaspi corner Paseo De Roxas Sts., Makati City Philippines
Phone No.: 859-1000  Fax No.: 859-1088
Email:  sales @pinnacle.ph
Website: http://www.pinnacle.ph
~~~
Photo Credit: mikecogh via Flickr
~~~
To our success and financial freedom!
Jay Castillo
Real Estate Investor
PRC Real Estate Broker License No. 3194 
Connect with us – Facebook | Twitter | Blog RSS | Google +
Text by Jay Castillo and Cherry Castillo. Copyright © 2008 – 2012 All rights reserved.
Full disclosure: I am an accredited real estate broker of  Pinnacle Real Estate Consulting Services Inc.
PS – Don't forget to subscribe to e-mail alerts to get notified when we publish new real estate investing tips, just enter your e-mail address below.