The Philippine National Bank – Special Assets Management Group will be conducting an auction of foreclosed properties in Bacolod City on October 20, 2011, 2:00pm, at the Business Inn, 28 South Lacson Bacolod City, Philippines. Foreclosed properties included in this auction are from Aklan, Capiz, Iloilo, and Negros Occidental. Please refer to the auction flyer and listing of foreclosed properties below for more details.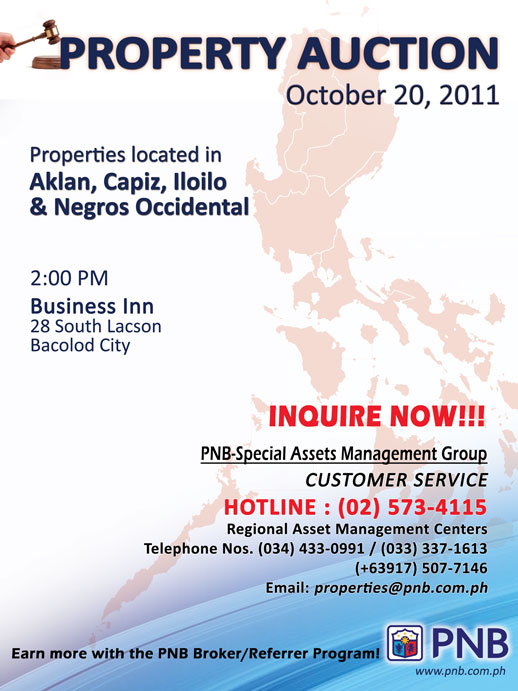 Download the listing of PNB foreclosed properties included in the Bacolod City auction on October 20, 2011
Just click on the thumbnail below to download the complete list of foreclosedproperties included in the public auction of the PNB on October 20, 2011 in Bacolod City.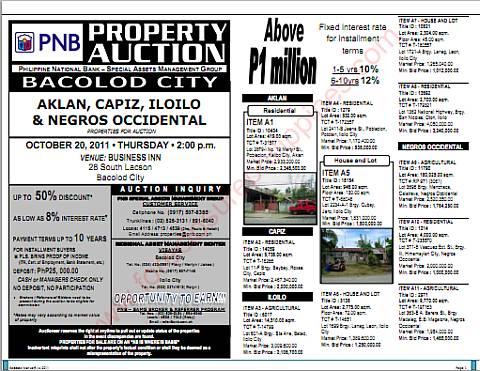 Happy hunting!
~~~
To our success and financial freedom!
Jay Castillo
Real Estate Investor
PRC Real Estate Broker Registration No. 3194
Blog: https://www.foreclosurephilippines.com
Follow me in Twitter: http://twitter.com/jay_castillo
Find us in Facebook: Foreclosure Investing Philippines Facebook Page
Text by Jay Castillo and Cherry Castillo. Copyright © 2011 All rights reserved.
Full disclosure: Nothing to disclose.