The Philippine Deposit Insurance Corporation (PDIC) shall conduct another public sealed bidding of PDIC foreclosed properties and closed banks on August 31, 2017. In total, more than a hundred foreclosed properties and repossessed cars are included in bidding. Details can be found below.
As per Invitation To Bid, sealed bids shall be accepted at the Penthouse, SSS Building, 6782 Ayala Avenue, cor. V.A. Rufino St. Makati City, and shall be accepted from 9:00am to 2:00pm only.
The list includes properties from Export and Industry Bank, and are from the following locations:
Muntinlupa
Batangas
Cavite
Laguna
Metro Manila
Rizal
As usual, all foreclosed properties included in the listings below are for sale on an "as-is, where-is" basis. So if you are interested in any of the properties, make sure that you have done proper due diligence prior to submitting your bid(s).
The list of foreclosed properties can be found in the invitation to bid below.
Invitation to bid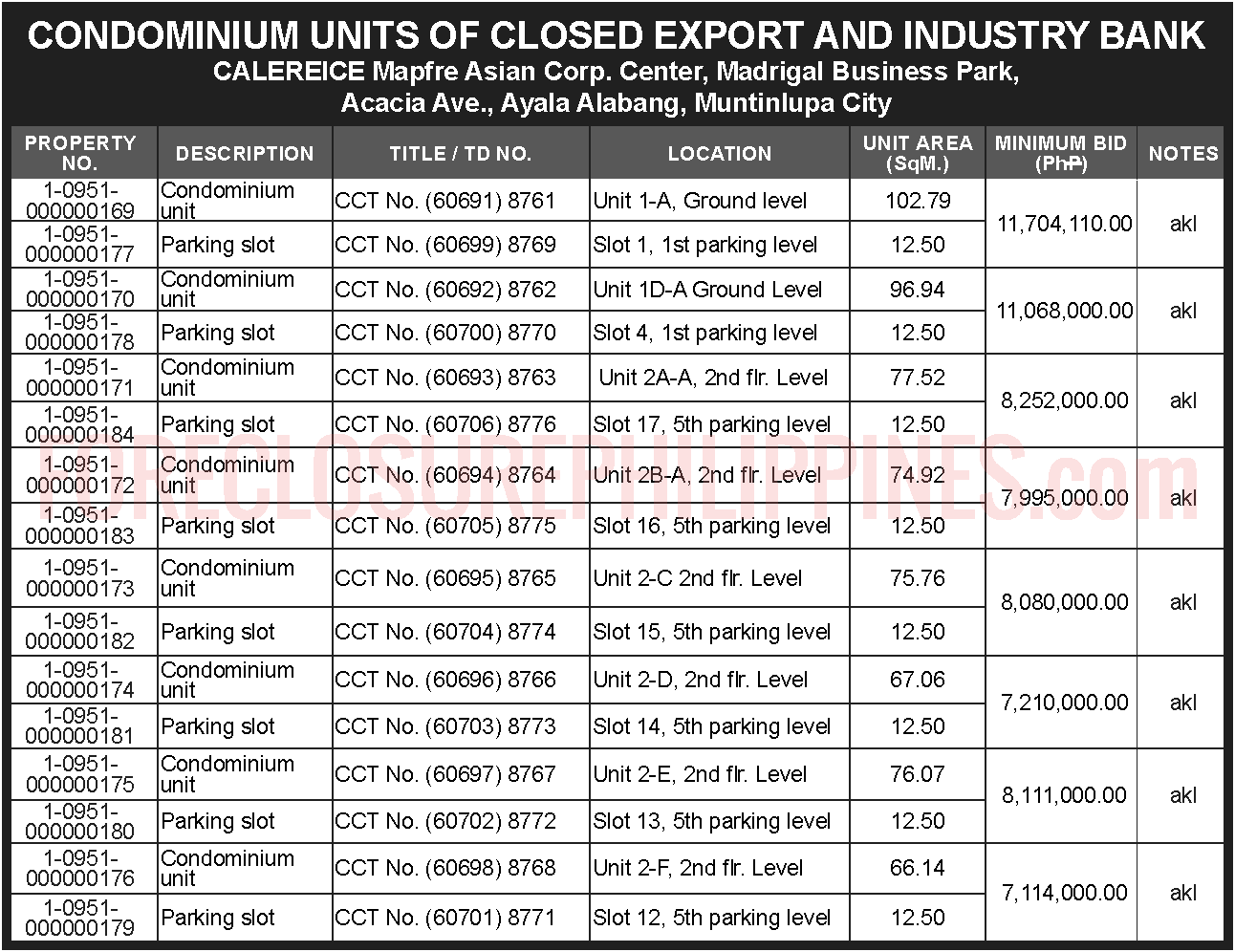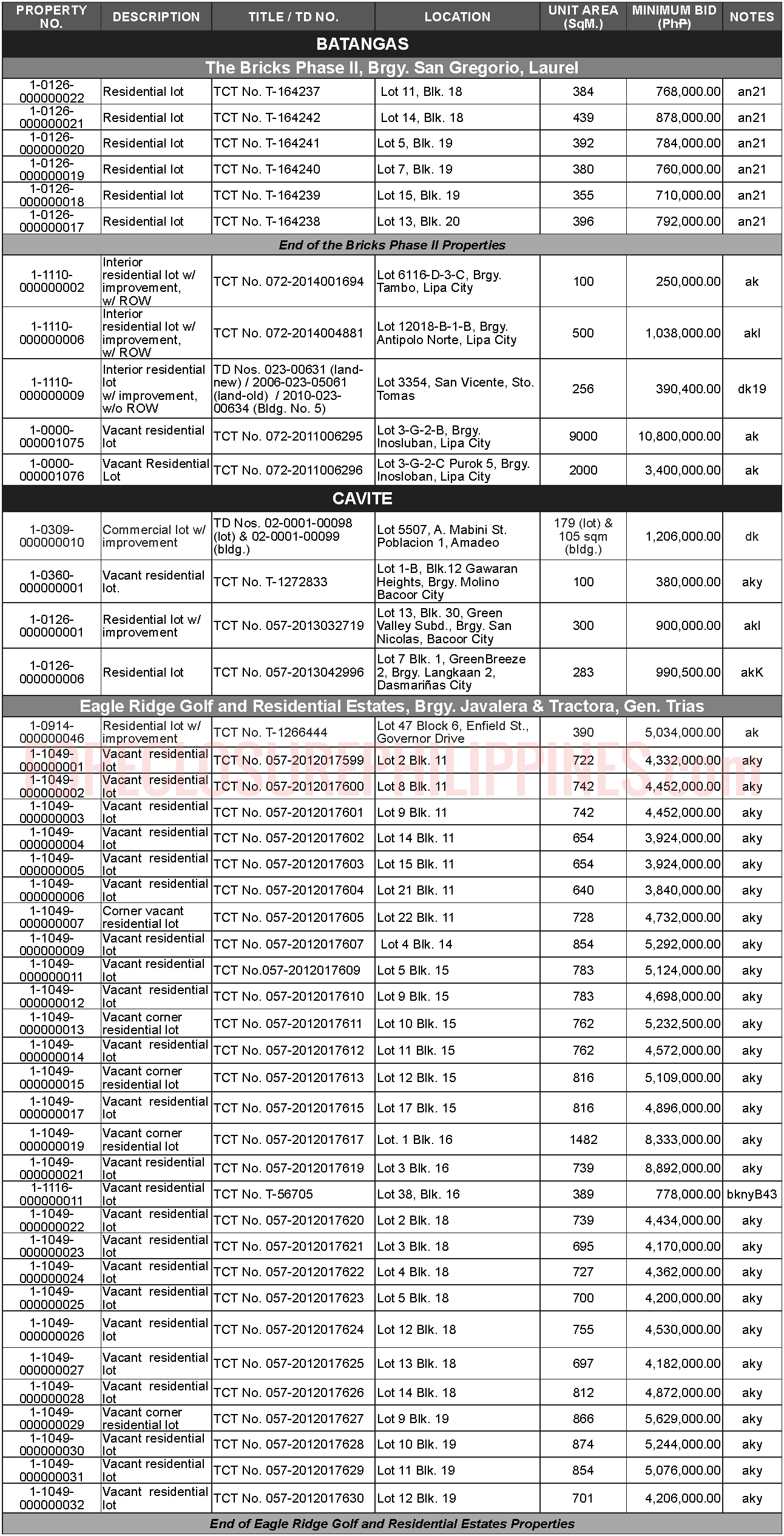 You may also download a copy of the invitation to bid below
Note: You will need Adobe Acrobat Reader to view PDF files, which is free to download at Adobe.com
Click to download PDIC's Invitation to Bid for the sealed bidding on August 31, 2017
Source: PDIC website
What do the codes under "NOTES" mean?
Based on the invitation to bid for their auction on September 4, 2017, here are the meanings behind the codes under the NOTES column
a – Title registered in PDIC's name/Closed Bank's name
b – Title, OR/CR registered in borrower's name/former registered owner's name
d – Covered with TD (only) in PDIC's name/Closed Bank's name
e – Covered with TD (only) not in PDIC's name/Closed Bank's name
g – Original Owner's or ROD's copy of TCT missing/ reportedly gutted by fire — reconstitution for buyer's account
k – With unpaid taxes
l – With lessee/tenants/informal dwellers/caretaker/encroachment/ planted to crops
m – Buyer to determine occupancy/tenancy
n – Needs resurvey
o – No Right-of-Way or used as Right-of-Way
r – Net of Right-of-Way/easement due to waterways, river, creek, erosion/traversed by road
t – Improvement without tax declaration
u – Not immediately available for possession
v – Inconsistencies in data found in the title/TD
w – Only a portion of area indicated in the title/TD for sale
x – With subdivision/condominium restrictions and/or subject to special conditions
y – With annotation pursuant to Rules of Court or RA or Civil Code or other pertinent laws
A – COS Stamped registered by ROD but not annotated in the Tax Declaration
B – With notarized Deed of Sale/Dacion en Pago/Deed of Assignment/Court Clearance/Decision/Certification in favor of the bank but not annotated in the title
E – Deed of Assignment in favor PDIC/ closed bank annotated on the title/TD
G – With claim for Right-of-Way
J – Not yet reflected in the latest tax map
K – Title in the name of mortgagee/originating bank/PDIC but TD still in the name of previous owner
M – Lot number indicated in the title is different from lot number per approved survey plan
4 – TD in third party's name
7 – Creek/river easement not yet deducted in the area
9 – Properties to be sold as a whole
10 – With technical error in describing the boundary/ies of the property.
11 – With DAR Certificate of Non-coverage but not annotated on the title
13 – Exact boundaries not determined due to absence of tax mapping in the area.
14 – Property is subject to an easement of right of way of (1) meter
15 – Property is prone to flooding/landslide/erosion
19 – Title and TD for land in the name of PDIC/ originating bank but TD for improvement/ building still in the name of previous owner.
20 – Buyer to reimburse real estate tax payments advanced by PDIC/closed banks CY 2016 onwards
21 – Property is located within an undeveloped subdivision/area
23 – Property traversed by Road/irrigational canal/transmission line/electrical post
36 – With Dacion in Payment with Right to Repurchase but not annotated on the title.
43 – No available tax map/cadastral map at the Assessor's Office
50 – Shape of the lot does not form a polygon when plotted based on the technical description appearing in the title
58 – Property sold at public auction by LGU with COS registered on title; property not redeemed by the Bank from LGU
Who to contact?
PDIC Asset Management and Disposal Group
Address:
Penthouse SSS Building 6782 Ayala Avenue corner V.A. Rufino St. Makati City 1226 Philippines
Tel. Nos.:
(632) 841-4000 Loc. 4770, 4772, and 4750
Email :
fmbeluan@pdic.gov.ph
fpzafranco@pdic.gov.ph
jhmarcilla@pdic.gov.ph
Full disclosure: Nothing to disclose. The PDIC bidding is for direct buyers only. We are posting this as a form of public service because a lot of you out there have been asking for these listings.
If you have any questions/inquiries, please contact PDIC directly through the contact details in the invitation to bid above. Thank you for understanding!