Paragon Finance Corporation will be conducting a public auction on November 23, 2012, Friday, 2:00pm, at Max's Starmall Edsa corner Shaw Boulevard, Mandaluyong City, Philippines.
Only Php10,000 show money is required per property in the form of cash or manager's check.
If you're interested but don't want to attend the auction, or if you simply want to avoid a bidding war where the selling price can go up if there is more than one bidder for the for the same property during the auction, you can choose to go for their "Knock-out" deal. More details below.
"Knock-out" deal
KNOCK-OUT DEAL: Minimum Bid Price + 1%; 5% spot down payment (DP) to reserve
Buyers have the option to go for a "Knock-out" deal where a property no longer has to undergo public auction, buyers only need to add 1% to the minimum bid price. To reserve a property, 5% of the Total Contract Price (TCP) is required. The TCP will be the Minimum Bid Price plus the addition 1% for "Knock-out" deals.
Payment terms
Cash
Installment

Option 1 – 20% total downpayment with the 80% balance payable in 5 or 10 years for house and lot,  5 or 7 years for lot only, at fixed interest rate (Please contact Paragon Finance Corporation for more details).
Option 2 – Buyers also have the option to go for bank financing but they must start making payments using Option 1 payment terms while bank financing is being processed.
Location of foreclosed properties for sale
The list contains properties from the following areas:
Quezon City
Paranaque
Rizal
Cavite
Laguna
The cheapest unsold property that I found on the list is a house and lot with a lot area of 36 sqm and floor area of 20 sqm in Mabuhay City, Cabuyao, Laguna, with a minimum bid price of just Php123,750.00. Actually, there were cheaper properties but they were already sold based on the list. The complete list of available properties can be found below.
Download the list of foreclosed properties
You may download the complete list of foreclosed properties available by clicking on the image below. This is updated as of November 15, 2012 where SOLD Properties have a strike through just like the following example: Strickthrough properties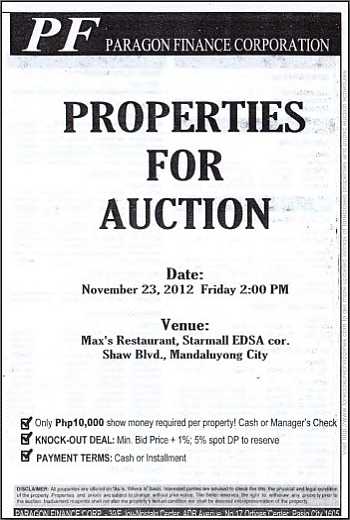 Or just click on the following link to download the list:
Source: Rachelle Manabat of Paragon Finance Corporation
I would like to acknowledge and give thanks to to Ms. Rachelle Manabat of Paragon Finance Corporation for patiently explaining to me their payment terms and for sending their most updated list.
For inquiries, please call Paragon Finance Corporation DIRECTLY:
Kyla Guancia: 0917-4672308
Rachelle Manabat: 0919-2241181
Archie Pilapil: 0917-6623695
Jezar Dela Torre: 0930-1749322
Paragon Finance Corporation's office address is located at the 39th Floor, Joy-Nostalg Center, ADB Avenue, No. 17 Ortigas Center, Pasig City 1605. Their Landline is 477-2923 to 26 locals 309 & 313
Reminders – Please read!
Disclaimer: All properties are offered on "As-is,Where is" basis. Interested parties are advised to check the title, the physical and legal condition of the property. Properties and prices are subject to change without prior notice. The seller reserves the right to withdraw any property prior to the auction. Inadvertent misprints shall not alter the property's factual condition nor shall be deemed as misrepresentation of the property.
Happy hunting!
~~~
Text by Jay Castillo and Cherry Castillo. Copyright © 2008 – 2012 All rights reserved.
Full disclosure: Nothing to disclose. Due to time constraints, we won't be able to handle this listing anymore so please contact Paragon Finance Corporation DIRECTLY through their contact details above. As always, our standard disclaimer applies.