This is the invitation to bid for a public auction to be conducted by the Pag-IBIG Fund Committee on Disposition of Acquired Assets scheduled on August 24, 2016.
The auction includes various properties in Legazpi City, Santo Domingo, Guinobatan, Tabaco City, Vinzons, Daet, and Naga.
44 foreclosed properties on the list are priced below Php 1 Million, with the cheapest unoccupied property at only Php196,800.00, which is a 120sqm vacant lot in Vinzons, Camarines Norte.
The complete list contains forty six (46) properties, which can be purchased via cash, installment, or through a Pag-IBIG Housing loan.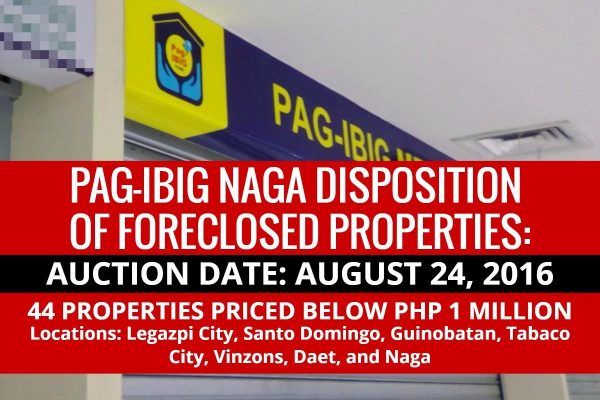 After doing their due diligence, interested bidders can submit their sealed bids at the Conference Room of Pag-IBIG Fund Naga Housing Business Center, ALDP Bldg., Diversion Road, Naga City from 10:00 AM to 11:00 AM only.

Please refer to the invitation to bid and general guidelines below for more details.
Invitation to bid
–
You may download a copy of the original invitation to bid for offline viewing using the link below:
–
Source: Pag-IBIG official website
For more details, please contact Pag-IBIG directly through the contact details specified above. You may also download the official forms directly from Pag-IBIG's website.
Full disclosure: Nothing to disclose. We are not accredited real estate brokers of Pag-IBIG. We are posting this as a form of public service because a lot of you have been asking for updated listings of foreclosed properties from Pag-IBIG.

Reminder: If you have any questions/inquiries, please contact Pag-IBIG directly through the contact details within the listings above, or visit their official website. Always transact with Pag-IBIG directly. Thank you for understanding!

P.S. If you like to receive more listings like this, you may also subscribe to e-mail alerts to get notified when we publish new listings.
P.P.S Click here to view other Pag-IBIG foreclosed properties auction schedules for August 2016.
Do you want more content like this? Tell us so we can publish more, just leave a comment or like/share. Thanks!