Jay and I went to the PRC yesterday to file my application for the Real Estate Brokers Exam on March 27, 2011. We decided to file my application for the real estate brokers exam early, even if the deadline is still on March 7, 2011.  Here are some tips based on how we did it yesterday, and we hope these would help those who are going to file their PRC real estate brokers exam application.
Before going to PRC:
1. Bring the filled-out forms already so you can save time.
Please see attached webcopy of the real estate brokers exam application form. The webcopy looks different from the photocopy version but I think they will accept it. Please confirm with the PRC employees. So sorry we were not able to scan the photocopy version of the application form (I thought the webcopy would be the same as the photocopy).
If you already have an application form, then you do not need to fall in line at the Public Assistance  counters. Also, if you fill out the forms at the PRC, you will have a hard time writing because the tables are limited.
Make sure to put the school code (can't find the link to PRC list) and course code already.  This pertains to your undergraduate course, not the review course. I saw a lot of people looking at the boards with the school codes and you can save time by looking for your code before you get to PRC. If you had further studies, get your school code and course code for that as well.
Look for your Rurban code for your place of birth, and another Rurban code for your address.
(Update Aug 2013: Here is the list of Board codes)
You do not need to have the application form notarized.
Place of examination – Manila (unless you will take the exam in Cebu, etc.)
Other dates usually refer to the date of filing of the application form.
Previous PRC exams taken – This is a bit confusing even for me. I wrote CPA board exams and the Board Code for CPA.  A person I talked to who was in front of me in the line said that he saw someone who wrote Engineering board but he was instructed to remove the same as the exam we will be taking is the Real Estate Broker's Exam. So one interpretation is that it pertains to the previous PRC exams you have taken which is the same as the one you will be taking now (meaning repeat).  This one I was not able to verify. Anyway, they accepted my application so I think it is not important.
2. Prepare your documents.
Prepare all the originals (put them together in an envelope), and prepare the photocopies (put them together in an envelope as well). They will compare the photocopies with the originals. Once satisfied with the photocopies, they will return the originals to you.
3. Double-check your documents:
Transcript of records (TOR) – must have S.O. #, with scanned picture, and noted "For Board Exam Purposes"
As an alternative to the TOR, you may present your diploma with S.O.# and scanned picture (I did not present this, only my TOR)
4 pcs. Passport size colored pictures with full name tag. Inside PRC (to the right of the Public Assistance counters), there is a picture-taking service for P80.00. I had mine done at Tronix for P60.00 only.
NSO Birth Certificate
NSO Marriage Certificate (for married women)
Passport (I brought my passport also as additional proof of Filipino citizenship and my name).
Community Tax Certificate (Cedula)
Any valid identification card
Notarized Certificate of Completion of 120 hours
NBI Clearance – I gave the Original Copy, but I saw someone pass the Personal Copy and it was accepted as well. To be sure, just prepare the Original Copy. I got mine (renewal) at the Park Square I NBI Satellite Office (in front of Dusit Hotel Makati) and it took me almost 2 hours to get it because of the long line. (Update Aug 2013: I have written about how to apply for an NBI clearance in this post.) 
OJT Certification: 60 hours – This is for those who opted to attend CRESAR's that offer 60-units lecture which should then be accompanied by 60 hours of OJT certified by a licensed real estate broker. In relation to this, a friend of Jay who also filed his application yesterday will have to go back after 3 days as it appears the 60 hours of OJT under a broker needs to be consulted and clarified with the PRBRES. This is one good reason to file your applications early! (Update: No more 60 hours review, only 120 hours. I just can't find the link to the PRC clarification).
4. You do not need to have a Certificate of Good Moral Character.
5. Bring your own ballpen, paste, and stamp pad.
There is a stamp pad or everybody's use at the long table at the Customer Service Center, but you have to get out of the line and go outside the main building.
Going to PRC:
The address of PRC is P. Paredes street, Cor. Morayta Street, Sampaloc, Manila, Philippines
Here is a link to a vicinity map to PRC in google maps:
http://maps.google.com/maps/ms?ie=UTF&msa=0&msid=202544684626545905354.00049d73d264cb902902c
By car – The best route recommended by my husband would be to come from C.M. Recto Avenue then turn right at Nicanor Reyes Street (formerly Morayta). Turn right again at P. Paredes street which is a one-way street.  P. Paredes is the street just before Espana. At P. Paredes street, you will see the PRC building at the left side (the blue building).
Parking is next to impossible at P. Paredes street. Just turn left to Sergio H. Loyola Street and then to P.  Campa street where you should be able to find some pay parking spaces.
By commuting – I suppose you can reach Nicanor Reyes Street or Morayta by riding any jeepney that will pass C.M. Recto or Espana. After alighting at Nicanor Reyes Street, just walk towards P. Paredes street where the PRC building is located.
6. Be early.
According to Ate Guard, the PRC opens at 8:00am. There is a lunch break from 12:00NN to 1:00pm, and the closing time is at 5pm. We just rode a taxi because it's difficult to find parking space in the area (and Tuesday is our coding day). Downside is that it was hard for us to get a taxi going back to Makati.
7. Buy Documentary stamps.
When you get inside the gate, you can buy metered documentary stamps (P21.00) at the windows at the right side.  I think there are three windows only. If you want to be more efficient, prepare the exact amount.  Give your application form and the PRC employee will stick the doc stamps on your form.
8. Buy a genuine window envelope.
Go to the left side, passing the windows with letters (Window H, Window K, etc.), and you will see the PRC Coop store beside the stairs. Buy a window envelope with metered stamp for P18.00. Again, if you want to be more efficient, prepare the exact amount. Do not buy a window envelope with metered stamp from peddlers outside PRC. According to a PRC employee at the documentary stamp window, those are fake.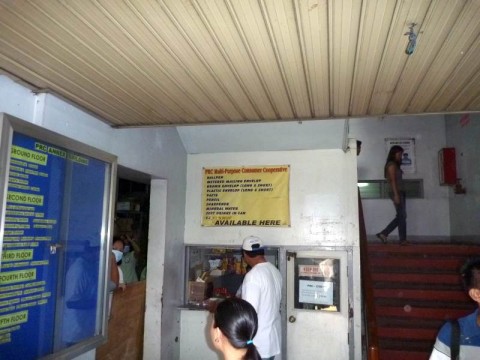 9. Fall in line for Evaluation.
Go inside the main building, and at the leftmost side, fall in line for evaluation of your application (Windows 5, 6, 7, and 8 ) There is a "manong" who will give you your application form number, which you have to write on your application form (Thus, you must have your own ballpen).
Better  if you have a thick folder which you can use as "patungan" or any hard surface you can write on since you will be doing a lot of writing while in line.  Ask manong to scan your application form as he can help you with some questions.
10. Fill-up the PERCC form, etc.
After your application form is evaluated, the PRC will give you the PERCC form and another form.  Hold on to it in the meantime.
11. Payment.
Next, pay the Php900.00 fee at the Cashier (right side of Windows 5, 6, 7, and 8). See picture above.
12. Issuance of Notice of Admission.
You will have to fall in line again for the issuance of the Notice of Admission (Windows 9, 10, 11, and 12). While you are in line, fill out the PERCC form and Notice of Admission form if you have not yet done so. Please see attached sample PERCC form so you are aware of what to write on the real one. The real PERCC form you should fill out shall be the one given to you by the PRC.
Note that you need to affix your thumbmark to the PERRC form. This is when having your own stamp pad is convenient, as you don't have to go outside anymore. I think everyone in the line will thank you if you share your stamp pad with them. Note: There is no stamp pad being sold at the Coop store.
Have your own paste also as you need to paste your picture on the Notice of Admission and the PERCC forms. This is the last step for the day. Go back 2-3 days before the exam for the building and room assignments.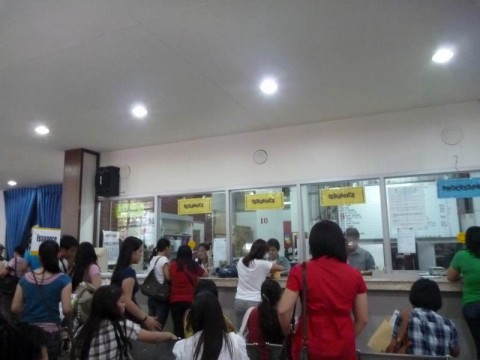 With thousands of aspiring brokers that are going to take the exam on March 27, 2011, I'm sure the long lines at the PRC will become longer and longer as the March 7, 2011 deadline for the filing of the real estate brokers exam application draws near.
Our suggestion is to file your applications for the real estate brokers exam as soon as you complete your requirements, like the 120-unit CRESAR certificates, among the many requirements.
Good luck to all who are taking the real estate brokers exam!
Cherry Castillo
Cherry is the wife of Jay Castillo. She is a certified public accountant (CPA), lawyer, and soon to be a licensed real estate broker.
Text by Jay Castillo and Cherry Castillo. Copyright © 2011 All rights reserved.
PS. Don't be the last to know, subscribe to e-mail alerts and get notified of new listings of bank foreclosed properties, public auction schedules, and real estate investing tips. Mailbox getting full? Subscribe through my RSS Feed instead!