Many people want to buy their own homes or investment properties but have a hard time with financing. Questions such as, "How do I get money for the downpayment?" or "Will I get approved for a loan?" are common.
Thankfully, UnionBank found a way to answer these concerns, specifically for the 21 brand new house and lots in Amalfi, Dasmarinas Cavite. Please continue reading to learn more.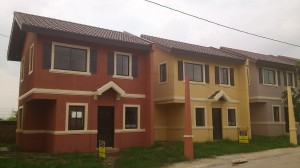 No credit checking
UnionBank is the only bank I know which has no credit checking. So, for those who are not employed, no need to worry about your ITR or other papers. Overseas Filipino Workers (OFWs) are welcome too. Even if you have no checking account, you will be allowed to open one with UnionBank (personally) once you purchase a property from them, but only for the sole purpose of issuing checks for the payment of your loan with them.
Low downpayment (only 10% over 6 months)
Unionbank is the only bank I know which allows a buyer to pay only 10% downpayment over six (6) months. After six months or the completion of the 10% downpayment, the buyer may already move in the property. Thus, there is no need to pay downpayment for a pre-selling unit and rental for your current home simultaneously beyond six months. For Unionbank's Amalfi properties in particular, they devised a special financing scheme which would make it easier for buyers to complete their payments.
Unionbank's financing scheme
To illustrate, let's take the example of a ready for occupancy Amalfi house and lot valued at P2,466,288  with a lot area of 92 square meters and a floor area of 64 square meters. The payments are as follows:
P12,331.44 per month for 5 months
P184,971.60 on the 6th month
P12,948.01 for the next 24 months. This is an interest-only loan at an interest rate of 7% per year. Interest-only meaning the payments all go to interest only and none to the principal.
P22,196.59 for the next 35 months (effectively, the 25th to 59th month of the loan). Henceforth, the amortization payments now go both to the principal and interest, and the interest rate is fixed at 11% per year.
P133,179.55 on the 60th month of the loan (end of the 5th year of the loan)
P22,196.59 for the next 35 months (effectively, the 61st to 95th month of the loan).
P133,179.55 on the 96th month of the loan (end of the 8th year of the loan)
P22,196.59 for the next 35 months (effectively, the 97th to 131st month of the loan).
P199,769.33 on the 132nd month of the loan (end of the 11th year of the loan)
P22,196.59 for the next 35 months (effectively, the 133rd to 167th month of the loan).
P199,769.33 on the 168th month of the loan (end of the 14th year of the loan)
P22,196.59 for the next 35 months (effectively, the 169th to 203rd month of the loan).
P101,345.06 on the 204th month of the loan (end of the 17th year of the loan)
Basically, they tried to lower the regular monthly payments, but there will be balloon payments on the 6th month, and end of the 5th, 8th, 11th, 14th, and 17th years of the loan. If you believe you are capable of paying these amounts and are disciplined enough to save for such payments, you may consider these properties.
Since these properties will be auctioned off, interested bidders only need to bring Php20,000 show money (cash or MC) per property. The bank will shoulder the CWT up to the selling price for the Amalfi house and lots.
Loan takeout
If you like the Amalfi properties but would like to have your loan with another bank, please note that Unionbank does not accept only a Letter of Guarantee (LOG). It must be fully paid before it will release the title to the property. Only Sterling Bank, Maybank, and PSBank agree to this arrangement. The good news is, Unionbank will give the buyer thirty (30) days to process his/her loan papers with the other bank, and once Unionbank is paid in full within that period, the purchase will be considered as a cash purchase which shall be entitled to a five percent (5%) discount.
Status of the properties
These are all brand new, never been occupied, Italian inspired house and lots, fully finished, complete with fixtures, ready for occupancy (RFO), and are for sale through public auction.
All of these house and lots in Amalfi have clean titles and are registered under the name of the bank who owns them, they have never been occupied (they are all brand new!), real property taxes are current, and they don't have any lis pendens or pending court cases. These properties are for sale on an "as is where is" basis.
Property details
Location: The Islands, Brgy Paliparan, Dasmarinas Cavite
Available house model: Calista
Floor Area: 64 sqm
Lot Area: 92 sqm to 315 sqm
Bedrooms: 3
Toilets and bath: 2
Ground floor: Living room, kitchen, dining area, and a toilet and bath
Second floor: Three bedrooms and a toilet and bath.
Features and amenities
Safe and secure gated subdivision (for your peace of mind)
Complete road network 12-20 meters wide subdivision roads with underground drainage system
Water supplied by Prime Water
Electricity supplied by Meralco
Clubhouse with basketball court
Near Saint Paul College within Island Park
SM City Dasmarinas and Robinsons Place Dasmarinas are just 2 kilometers away.
With 24-hour shuttle service inside the subdivision
"Virtual Tour" Videos
Part 1:
Part 2:
Additional pictures
Vicinity Map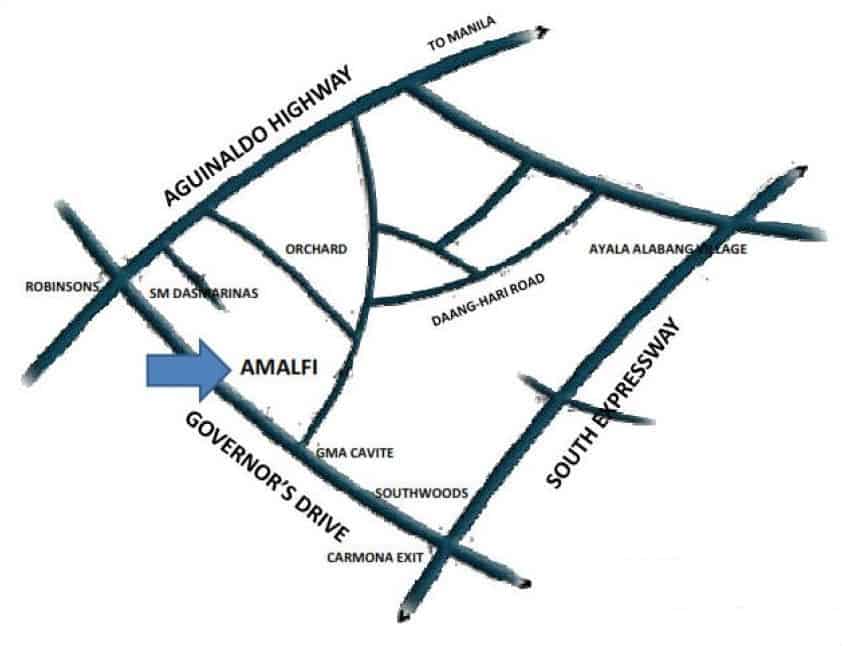 Minimum Bid Price for the House and Lots
Lot Area = 92 sqm, Floor Area = 64 sqm :
Php2,466,288.00 (13 house and lots available)
Lot Area = 192 sqm, Floor Area = 64 sqm :
Php3,316,288.00 (3 house and lots available)
*More house and lots are available with different lot areas and pricing, please see below complete list (click to enlarge).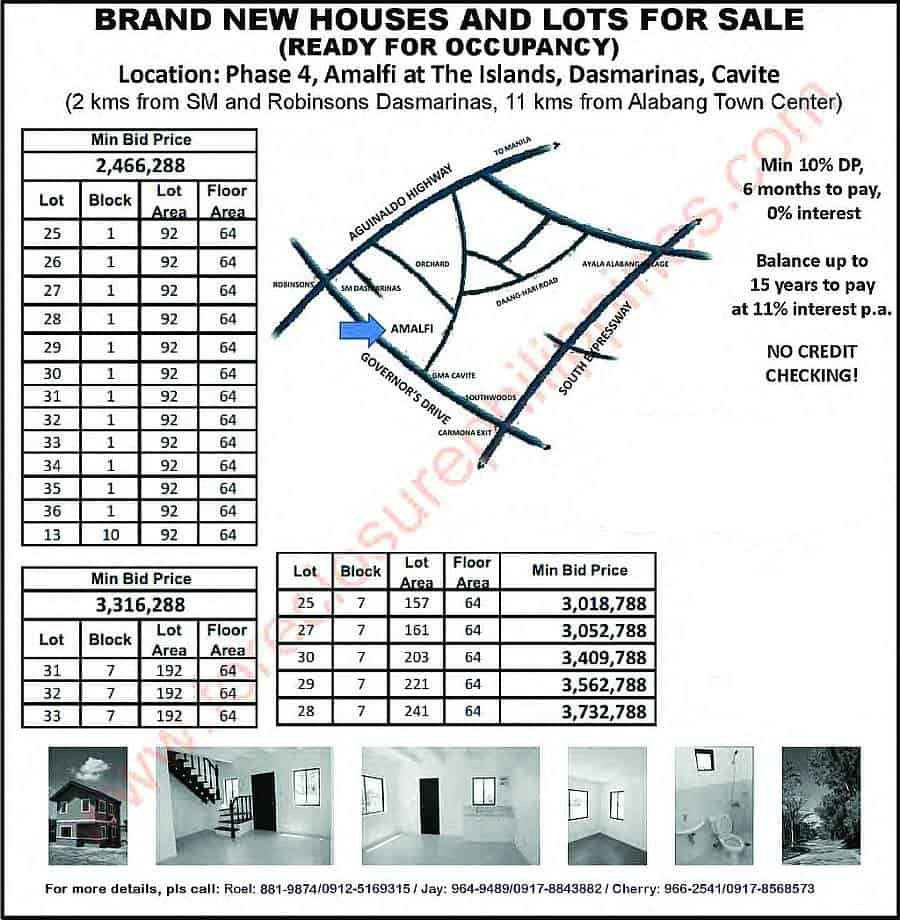 Date of auction
To find out when the next auction will be, please check this page: UnionBank Foreclosed Properties Auctions and Listings. Auction proper starts at 9:00am so please come early to register. If you can't wait for the auction, we can also assist you with the submission of your offer, subject to approval by bank management.
How to inquire
The best way to inquire would be through the inquiry form below.

If you can't see the inquiry form above, you may also access it through the following link: https://docs.google.com/spreadsheet/viewform?formkey=dFZaMkQwRmJpQjk3RkpQcHMzdU9WMkE6MQ#gid=0
~~~
To our success and financial freedom!
Cherry Vi M. Saldua-Castillo
Real Estate Broker, Lawyer, and CPA
PRC Real Estate Broker License No. 3187
PRC CPA License No. 0102054
Roll of Attorneys No. 55239
Text by Jay Castillo and Cherry Castillo. Copyright © 2012 All rights reserved.
As always, our standard site disclaimer applies
Full disclosure: We are accredited real estate brokers of the owners/sellers of the Amalfi house and lots in this listing and we shall be entitled to commissions/professional fees for each consummated sale (at no additional cost to the buyer). Thank you in advance for supporting our hard work and this website! We are open to partnerships with licensed brokers/agents/referrals, just call us for details!