The Real Estate Brokers Association of the Philippines (REBAP) Ortigas and Metro East Chapters shall be conducting 2014 Continuing Professional Development (CPD) Seminars on October 11 (Saturday), 15 (Wednesday), 18 (Saturday), and 22 (Wednesday), 2014, from 1:00 pm to 7:45 pm (6 units per day). The venue will be at Congo Grille, El Pueblo, Ortigas Center.

These seminars will be spearheaded by our good friends Ms. Cecille Dignadice and Mr. Rod Martin. The topics are very interesting and I'm sure that the attendees will learn a lot from the very knowledgeable and experienced speakers (and will be full from the dinner buffet and bottomless iced tea hehe).
The credit units may be used for purposes of renewal of real estate brokers' license (requirement is 45 units), for renewal of salesperson's accreditation (30 units), or for accreditation of salespersons (12 units).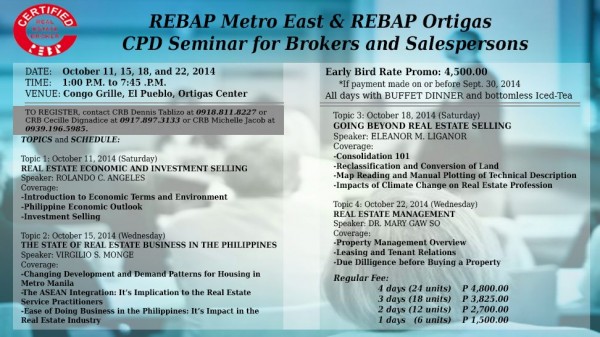 Seminar Topics, Schedules, and Speakers
Topic 1: October 11, 2014 (Saturday)
REAL ESTATE ECONOMICS AND INVESTMENT SELLING 
Speaker: ROLANDO C. ANGELES
Coverage:
Introduction to Economic Terms and Environment
Philippine Economic Outlook
Investment Selling
Topic 2: October 15, 2014 (Wednesday)
THE STATE OF REAL ESTATE BUSINESS IN THE PHILIPPINES
Speaker: VIRGILIO S. MONGE
Coverage:
Changing Development and Demand Patterns for Housing in Metro Manila
The ASEAN Integration: Its Implications to the Real Estate Service Practitioners
Ease of Doing Business in the Philippines: Its Impact in the Real Estate Industry
Topic 3: October 18, 2014 (Saturday)
GOING BEYOND REAL ESTATE SELLING
Speaker: ELEANOR M. LIGANOR
Coverage:
Consolidation 101
Reclassification and Conversion of Land
Map Reading and Manual Plotting of Technical Description
Impacts of Climate Change on Real Estate Profession
Topic 4: October 22, 2014 (Wednesday)
REAL ESTATE MANAGEMENT
Speaker: DR. MARY GAW SO
Coverage:
Property Management Overview
Leasing and Tenant Relations
Due Diligence before Buying a Property
Seminar details
The seminar fees are as follows:
P 1,500.00 per day (6 credit units), inclusive of  DINNER BUFFET and bottomless iced tea
Attend 2 days and get 10% discount or pay only P 2,700.00 (12 units)
Attend 3 days and get 15% discount or pay only P 3,825.00 (18 units)
Attend 4 days and get 20% discount or pay only P 4,800.00 (24 units)
For questions, please call:
Dennis Tablizo : 09178118227 (Globe)
Michelle Jacob : 09391965985 (Smart)
Cecille Dignadice : 09178973133 (Globe)/ (02) 3593250 (Wireless Landline)
To register online, please go to http://propertymarketph.com/rebap/cpdregister
You may also download this REBAP Ortigas and Metro East CPD Registration Form, fill out the details, and send the scanned copy of the accomplished form to cecille_d_ph@yahoo.com.
For Seminar Payment, please deposit to any of the following accounts:
Chinabank CA # 259-0199513 REBAP Metro East
BDO SA# 2370084983 Maria Cecilia Dignadice
BPI SA # 8476 9353 31 Nina Michelle Jacob
Please send a picture or scanned copy of the deposit slip to cecille_d_ph@yahoo.com or bring the original deposit slip to the seminar.
Map to the Venue