CBRE will hold its Property "Pac-yawan" Bazaar Christmas Public Auction of bank acquired properties this coming December 10, 2009, Thursday, 3:00PM, at the Brasserie, 21st Floor, Security Bank Bldg., Ayala Avenue, Makati City, Philippines. Show Money is only Php25,000. Bank financing is available but if not approved, in-house financing can be considered, subject to management's approval.
Thinking about investments?
This will be a great opportunity both for people who would like to invest in real estate and for those who would want to grab the chance to purchase their new homes at a very friendly price. Properties will be auctioned at very low prices, making it an opportunity everyone wouldn't want to miss.
Worried about unconsolidated TCT's? Encumbrances that goes with cheap properties?
Worry no more as all titles are consolidated under the Name of the Seller and all are clean titles. Of course it wouldn't hurt to do your due diligence just to be sure as all properties are for sale on an "as is, where is" basis. Properties, rates, and prices are subject to change without prior notice.
Location of properties
The Areas covered are Manila, Paranaque, Valenzuela, Baguio, Batangas, Cavite, Laguna and Rizal.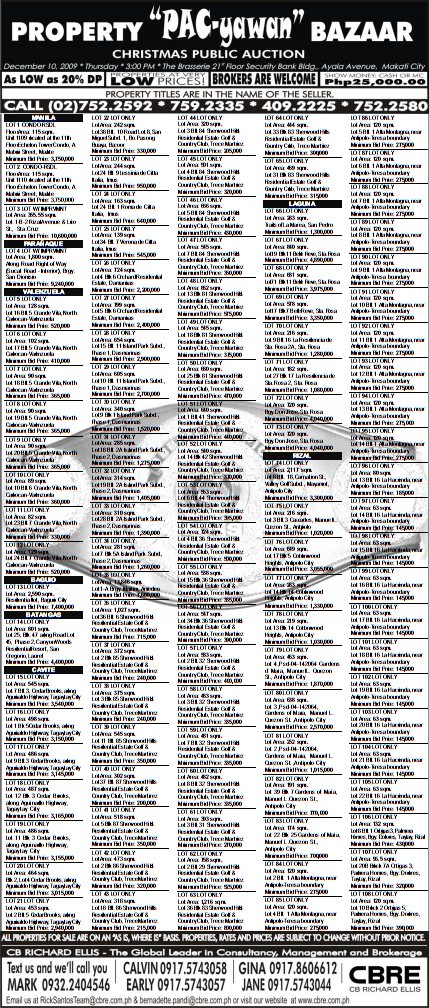 Click here to download CBRE's property "Pac-yawan" Bazaar Christmas Public Auction listing of bank acquired assets. or just click on the image above.
For inquiries, you may call CBRE at (02) 752-2592 / 759-2335 / 409-2225 / 752-2580 or you may also text them through the following numbers and they will call you!
Mark 0932.2404546
Calvin 0917.5743058
Early 0917.5743057
Gina 0917.8606612
Jane 0917.5743044
I would like to thank Vanessa Joy Tan for sending me a copy of the listing. Sorry Vanessa if it took sometime before I was able to post this as my wife and have been very busy with looking for a new house lately. Same goes to Mark Del Rosario of CBRE who also sent me a copy of the listing.
Happy hunting!
—
My vision – financial freedom for all!
Jay Castillo
Real Estate Investor
Real Estate Broker License #: 20056
Blog: https://www.foreclosurephilippines.com
Click here to contact me via E-mail
Mobile phone (Call/SMS): +639178843882
Follow me in twitter: http://twitter.com/jay_castillo
Become a Fan in Facebook: Foreclosure Philippines fan page
Text by Jay Castillo. Copyright © 2009 All rights reserved.
PS. If you are a new visitor, please start here to learn more about foreclosure investing in the Philippines.
PPS. If you feel that anyone else you know might benefit from this post, please do share this to them and don't forget to subscribe to e-mail alerts and get notified of new listings of bank foreclosed properties, public auction schedules, and real estate investing tips. If your inbox is getting full, you may subscribe through my RSS Feed instead.