The Buena Mano Q1-2011 Visayas and Mindanao Catalog is here! Just like the Greater Metro Manila and Luzon catalogs, this one is color coded according to property classifications. These include red tag, yellow tag, and green tag properties for sale. To learn more about the different property classifications, please refer to page 3 of the catalog.
Buena Mano Q1-2011 Visayas and Mindanao catalog download
Copies of the Visayas and Mindanao catalog are available for free at most BPI branches. For your convenience, a softcopy in PDF format can be downloaded below, just click on the image thumbnail of the cover page.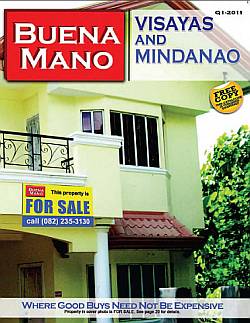 Why PDF? PDF files can be opened by using a free software called adobe acrobat reader from adobe.com, and PDF files like the one I have here contains text which are searchable. For example, try searching for the keyword "warehouse" by typing it in the search box inside adobe acrobat reader and press enter…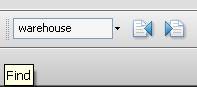 …and you will find a warehouse for sale, just like the one below. Continue clicking on the "next" arrow button and you will find 5 more warehouses for sale that are inside the catalog.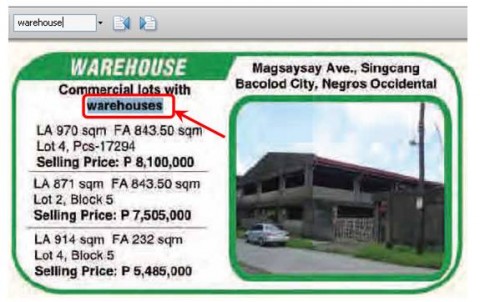 For those who still have difficulty opening PDF files because of outdated Adobe Reader software (hint-download the latest at adobe.com NOW), you may also download the following zip files containing a copy of the catalog in JPG format:
Need help?
If you are seriously considering any of the properties on the Buena Mano Q1-2011 Visayas and Mindanao Catalogue, and you need help with making an offer to purchase, please leave a comment below or you may also contact Mr. Roel Vergel through the following and he will be happy to assist.
Call or text: +639125169315
E-mail: good_rich23(at)yahoo(dot)com
Happy investing!
To our success and financial freedom!
Jay Castillo
Real Estate Investor
Real Estate Broker License #: 20056
Blog: https://www.foreclosurephilippines.com
Follow me in Twitter: http://twitter.com/jay_castillo
Find us in Facebook: Foreclosure Investing Philippines facebook page
Text by Jay Castillo and Cherry Castillo. Copyright © 2011 All rights reserved.
Disclosure: I am a duly accredited real estate broker of Buena Mano Property Sales and Leases (accreditation renewal for 2011 ongoing) and Roel is helping me with this.
PS. Don't be the last to know, subscribe to e-mail alerts and get notified of new listings of bank foreclosed properties, public auction schedules, and real estate investing tips. Mailbox getting full? Subscribe through my RSS Feed instead!