A post by Cherry Castillo
In my earlier post, I noted that the BIR has been releasing issuances showing that they are keen on collecting more revenues from real property transactions by updating real property values. I also noted from the BIR's Memorandum of Agreement with CREBA Land that the BIR's target date for the updating of real property values is June 30, 2010. The BIR's latest issuance, Revenue Memorandum Order (RMO) No. 41-2010 dated April 23, 2010 confirms this deadline date.
Basically, there will be three committees who will be working on the updating real property values, namely: the Executive Committee on Real Property Valuation (ECRPV), the Technical Committee on Real Property Valuation (TCRPV), and the Sub-Technical Committee on Real Property Valuation (STCRPV). The nitty-gritty work will be done by the STCRPV, which shall be composed of the following: the Revenue District Officer (RDO) as Chairman, the Assistant Revenue District Officer (ARDO) as Vice-Chairman, and the (1) Municipal/ Assistant City Assessor, (2) Local Development Officer (Office of the Mayor), and (3) Two (2) licensed and competent appraisers from a reputable association/organization of appraisers as members.
To learn more about the procedure for determining the updated zonal values, click here to get a copy of RMO No. 41-2010.
Annex A is the format of the invitation letter that the BIR will send to members of the committees(click here to download a copy of Annex A).
Annex B contains the Classification Codes which can be seen below (click here to download a copy of Annex B).
Annex C is the format of the Schedule of Recommended Zonal Values(click here to download a copy of Annex C).
ANNEX  "B"

DEFINITION OF TERMS

| | |
| --- | --- |
| RESIDENTIAL | LAND/CONDOMINIUM PRINCIPALLY DEVOTED TO HABITATION. |
| | |
| COMMERCIAL | LAND/BUILDING DEVOTED PRINCIPALLY TO COMMMERCIAL PURPOSES AND GENERALLY FOR THE OBJECT OF PROFIT. |
| | |
| INDUSTRIAL | DEVOTED PRINCIPALLY TO INDUSTRY AS CAPITAL. |
| | |
| AGRICULTURAL | DEVOTED PRINCIPALLY TO RAISING OF CROP SUCH AS RICE, CORN, SUGARCANE, TOBACCO, ETC. OR TO PASTURING, INLAND FISHING, SALT-MAKING, AND OTHER AGRICULTURAL USES INCLUDING TIMBERLAND AND FOREST LAND. |
| | |
| GENERAL PURPOSE | RAWLAND, UNDEVELOPED AND UNDERDEVELOPED AREA WHICH HAS POTENTIAL FOR DEVELOPMENT INTO RESIDENTIAL, COMMERCIAL, INDUSTRIAL, INSTITUTIONAL, ETC. MUST NOT BE LESS THAN 5,000 SQUARE METERS. |
| | |
| VICINITY | MEANS AN AREA, LOCALITY, NEIGHBORHOOD OR DISTRICT ABOUT, NEAR, ADJACENT PROXIMATE OR CONTIGUOUS TO A STREET BEING LOCATED. |

CLASSIFICATION LEGEND:

CODE

CLASSIFICATION

CODE

CLASSIFICATION

RR
Residential Regular
GL
Government Land
CR
Commercial Regular
GP
General  Purposes
RC
Residential Condominium
I
Industrial
CC
Commercial Condominium
X
Institutional
CL
Cemetery Lot
APD
Area for Priority Development
A
Agricultural
PS
Parking Slot

AGRICULTURAL LANDS

A1
Riceland Irrigated
A26
Bamboo Land
A2
Riceland Unirrigated
A27
Peanut Land
A3
Upland
A28
Soy beans Land
A4
Coco Land
A29
Grape vineyard
A5
Citrus Land
A30
Pepper Land
A6
Fishpond
A31
Mineral Land
A7
Swamp
A32
Non Metallic mineral Land
A8
Nipa Land
A33
Coal Deposit
A9
Cotton Land
A34
African Oil Land
A10
Cogon
A35
Rubber Land
A11
Abaca Land
A36
Forest Land/Timber Land
A12
Orchard
A37
Horticultural Land
A13
Pineapple Land
A38
Salt Beds
A14
Banana Land
A39
Seashore
A15
Pasture Land
A40
Resort
A16
Corn Land
A41
Sandy/Stony
A17
Sugar Land
A42
Prawn pond
A18
Tobacco Land
A43
Sorghum
A19
Cacao
A44
Ipil-ipil
A20
Lanzones
A45
Kangkong
A21
Durian
A46
Zarate
A22
Rambutan
A47
Vegetable Land
A23
Mango
A48
Coffee
A24
Mangrove
A49
Mountainous / Hilly Areas
A25
Camote/Cassava
A50
Other Agricultural Lands
Salient portions
For me, the salient portions are the following:
"The determination of recommended market values shall be based on:
Acceptable methods of appraisal of real properties;
Records of most recent actual sales/transfers/exchanges of properties in documents filed in public offices, e.g., BIR, Land Registration Commission, etc.;
Private records of banks, realtors, and appraisers in the locality;
Records of provincial/city/municipal assessors;; and
Other procedures and methods of appraisal."
"The schedule of recommended zonal values shall contain the following:
a. The three recommended values from the BIR, the private appraisers, and the provincial/city/municipal assessor; and
b. The final recommended value which is the average of the two (2) highest recommended values.
In case there is no available private appraiser in the locality and/or in case of failure of any or all of the members of the STCRPV to attend the meeting called for and/or submit their respective recommended market values as requested within ten (10) calendar days from the date of the concluding meeting of the STCRPV, the Chairman of the STCRPV shall:
i.             Execute an "Affidavit" to that effect;
ii.             Proceed with the establishment/revision of the schedule of zonal values based on the average of the two (2) highest recommended values or best data/values available; and
iii.             Submit to the TCRPV the Schedule of Zonal Values together with copies of letter of invitation with waiver duly received by the members (Annex "A"), Affidavit, Maps, Minutes of Meeting, and all other documents relative to the establishment/revision of zonal values."
The guidelines look fair and the procedure is quite clear-cut. I really think that the schedule is too tight though. It's really the BIR and the municipal/city assessors who will be working hard on this as my understanding is that the private appraisers can decline the BIR's invitation for them to join the STCRPV. On another note, it's good that there will be public hearings, the schedules of which should be disseminated in newspapers and notices to the public.
Cherry Castillo
Cherry is my wife. She is a certified public accountant (CPA) and lawyer.
Jay's thoughts
So what does this mean to us not just as investors but also as property owners, why should we be concerned?
We should be concerned because if the revised zonal values exceed the market values of our properties, this would mean a corresponding increase in the applicable real estate taxes that we pay.
As mentioned in my article: How I estimate the market values of foreclosed properties, market value is defined as "the estimated amount for which a property should exchange on the date of valuation between a willing buyer and a willing seller  in an arm's-length transaction after proper marketing wherein the parties had each acted knowledgeably, prudently, and without compulsion." In other words, a buyer and a seller who have no compelling reason or special circumstances to buy and sell, respectively, agree on this price.
Market value is not the same as the technical term "fair market value" (FMV) which is used for taxation purposes, and is based on the zonal value of a property.
Public hearings announced in Makati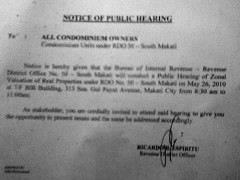 In the condo where we are renting right now for example, we saw a "Notice of public hearing" (please see picture on the left, sorry some portions might be unreadable as my camera phone stinks… hehe) and the hearing will be conducted by the BIR.
Unit owners of this particular condo in Makati were invited to attend the said hearing to be able to have the opportunity to present issues and the same be addressed accordingly. I believe  helping ensure that the zonal values/fair market values be really "fair" is one such issue. Let us all help and do our part given the same opportunity.
We would really appreciate your thoughts on this. Thanks!
—
To our success and financial freedom!
Jay Castillo
Real Estate Investor
Real Estate Broker License #: 20056
Blog: https://www.foreclosurephilippines.com
Follow me in twitter:http://twitter.com/jay_castillo
Find us in Facebook:Foreclosure Philippines facebook page
Text by Jay Castillo and Cherry Castillo. Copyright © 2010 All rights reserved.
PS. Are you a new visitor? Click here NOW to start learning more about foreclosure investing in the Philippines
PPS. Don't be the last to know, subscribe to e-mail alerts and get notified of new listings of bank foreclosed properties, public auction schedules, and real estate investing tips. Inbox getting full? Subscribe through my RSS Feed instead!