We now have a total of 858 BFS foreclosed properties for sale, inside our foreclosed properties database. This list is updated as of August 1, 2017. More details below.
BFS listing updates for August 1, 2017:
Here's a summary of updates for the August 2017 listing, which comes directly from BFS:
29 newly listed properties were added to the database (with pictures, vicinity maps to follow)
41 properties were removed from the list
In total, we now have 858 BFS foreclosed properties in our database as of August 1, 2017
This update supersedes all previous listings from BFS
View all BFS foreclosed properties (database)
To view all BFS foreclosed properties, click on the button below:

Click to view ALL BFS Foreclosed Properties (with pictures and vicinity maps)
View BFS foreclosed properties in your target location
Instructions:
Step 1. Visit the link above for all BFS foreclosed properties inside our database
Step 2. Under "City or Municipality", choose your target location.
Step 3. (Optional) Choose the property type (for BFS, it's either Vacant Lot or House And Lot), and/or your preferred minimum/maximum price. Leave these blank or "Any" to include all.
Step 4. Click on "Search" button
Here's a short video of how to do the steps mentioned above
Note: Video really has no voice. 🙂
View/download listing (PDF)
Alternately, you may download the list for offline viewing below:

Click to download list in PDF format
Note: You will need Adobe Acrobat Reader to view PDF files, which is free to download at Adobe.com
Big discounts are available!
Here are some very important reminders from BFS:
-> SPOT CASH BUYERS GET THE BIGGEST DISCOUNTS!
-> Discounts from 5% up to 40%+++!
-> UP TO Php 500K PRICE DROP on some properties!
->
Don't forget to tell BFS that you learned about them from ForeclosurePhilippines.com to get the best deals!
How to buy foreclosed properties from BFS
Here's a step-by-step guide from BFS: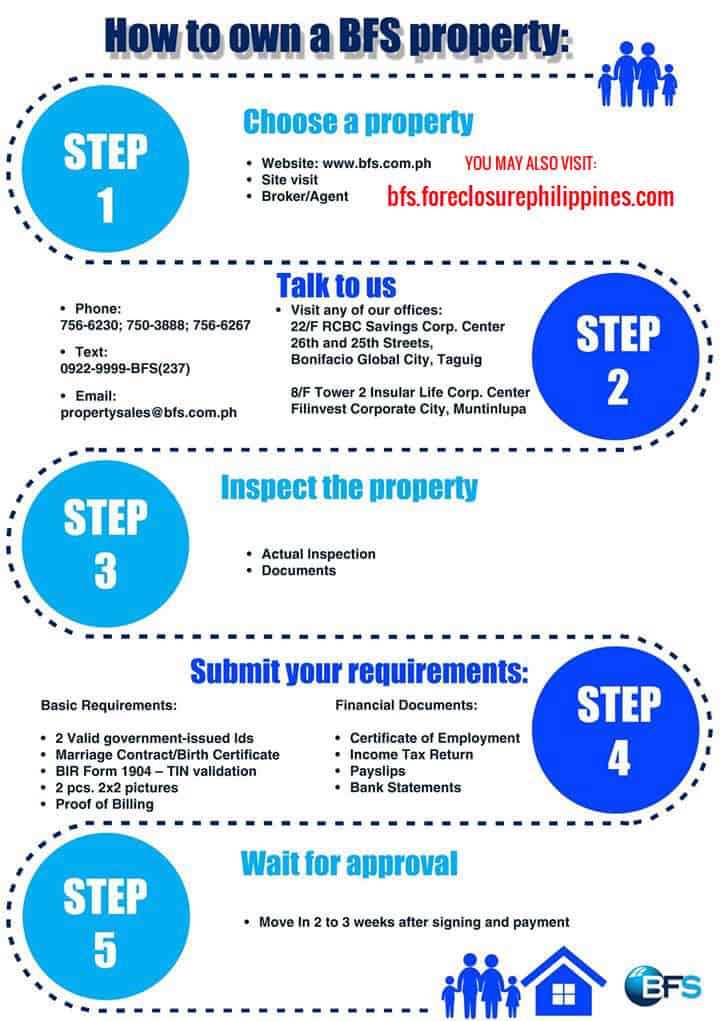 Source: BFS Facebook page
How to inquire
To inquire, please call BFS directly at (02) 750-3888 and look for the designated contact person/account specialist as stated in the listings above. Please have the property account number ready when inquiring.
Note: due to the high volume of inquiries, it would be best to inquire through telephone to get property details faster!
You may also call other BFS telephone numbers:
Telephone:
(02) 756-6230
(02) 756-6330
(02) 756-6376
(082) 221-0809 – Davao
Local Nos. 543, 303, 385, 523, 490, 479, 388, 510, 546
1-800-10-2255-BFS (237)
You may visit BFS offices at the following locations:
Bonifacio Global City (Head Office)
22nd Floor, RCBC Savings Bank Corporate Center
25th and 26th Streets, Bonifacio Global City, Bonifacio Global South,
Taguig, Philippines
Alabang Office
8th Floor, Insular Life Building
Filinvest Corporate City
Alabang, Muntinlupa, Philippines
Davao Office
Unit 301, Plaza de Luisa
Ramon Magsaysay Avenue
Davao City, Davao, Philippines
P.S. – Don't forget to subscribe to email alerts to get notified of updated listings.
Disclaimer and disclosure:

* Offer prices subject to change without prior notice.

** BFS does not make any representations with respect to these properties. We encourage you to make an ocular inspection of the property – these, or the creditor's rights over these, are sold "As is, Where is" and the pictures contained herein may vary from the actual condition of the property.

*** Some of these properties may still be subject to redemption. In case of redemption, you will be reimbursed from the redemption proceeds.

**** These Properties may still be subject to a transaction or proceeding, which necessarily involves government agencies. BFS has no control over, and makes no representation with respect to the time it will take for concerned government agencies to process and release the necessary documents and clearances.

*****All taxes are the responsibility of the Buyer.
Frequently Asked Questions (FAQ)
Click each question to view answer:
If you have other questions, please let us know by leaving a comment below.