UnionBank foreclosed properties are up for grabs in their 162nd Special Public Auction on December 11, 2010 and this includes the Visayas and Mindanao areas. If you are one of those looking for foreclosed properties from Visayas and Mindanao, this list is for you. Simultaneous public auctions for will be held in the following venues:
Bacolod City: Business Inn Lacson Street
Cebu City: Cebu Country Club
Cagayan De Oro City: The VIP Hotel Don Apolinar Velez Street
Zamboanga City: Grand Astoria Hotel Mayor Jaldon Street
For more details, please call the Union Bank Head Office: (02) 637·1445 / (02) 638·0125 / 0906·2108828
Only 10% downpayment is required, with the balance payable in 15 years, and NO CREDIT CHECKING. Please refer to the auction announcement below for more details.
Complete listing of UnionBank foreclosed properties in Visayas and Mindanao
Click here to download a copy of the complete list of UnionBank foreclosed properties in PDF format or click on the image below to download a copy in JPG format.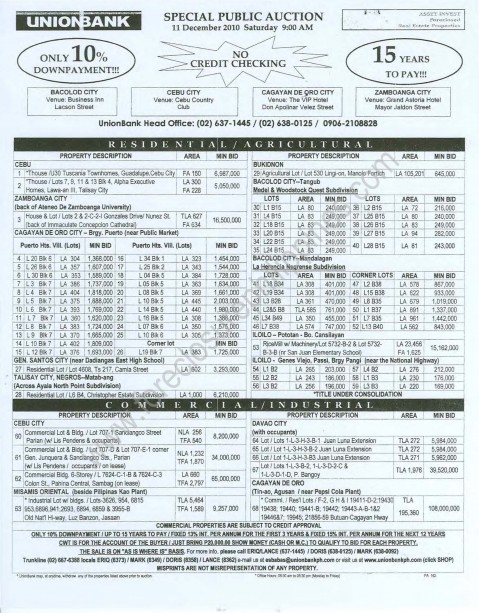 Thanks again to Lance Yadao for sending us this list of foreclosed properties from UnionBank. Lance is their Asset Recovery Officer.
Looking for Metro Manila foreclosed properties?
The UnionBank foreclosed property auction for Metro Manila is fast approaching and will be happening this November 27, 2010. Click here for more details. Links to pictures have been added.
Happy hunting!
To our success and financial freedom!
Jay Castillo
Real Estate Investor
Real Estate Broker License #: 20056
Blog: https://www.foreclosurephilippines.com
Follow me in Twitter:http://twitter.com/jay_castillo
Find us in Facebook:Foreclosure Philippines facebook page
Text by Jay Castillo and Cherry Castillo. Copyright © 2010 All rights reserved.
PS. Attend Larry Gamboa's Think Rich Pinoy Seminar on December 4, 2010. Click here now to grab your seats! or click here to download more information (please feel free to forward this your friends).
PPS. Don't be the last to know, subscribe to e-mail alerts and get notified of new listings of bank foreclosed properties, public auction schedules, and real estate investing tips. Mailbox getting full? Subscribe through my RSS Feed instead!