When I read that a Buendia-Makati Avenue-Paseo de Roxas underpass will be constructed, I immediately thought of the horrific traffic mess that would be involved. Everybody knows that a great number of people work in Makati but do not live there, and therefore have to endure the daily commute — can you just imagine the number of hours of people's lives that will be wasted?
I remember the time when the C5-Katipunan flyover and underpass were being constructed. I was traveling from Makati where I worked to UP where I attended evening law classes then. Super traffic! But of course now that it's already done, all that traffic was worth it. So I believe the same will be true once the underpass is completed.
At present, it will really take you a long time to pass through the intersection of Buendia and Makati Avenue, and also the intersection of Buendia and Paseo de Roxas. If you can bypass the two intersections, I think you can save a lot of time.
However, while it is being constructed, for sure the businesses located along the construction area will be negatively affected, as well as those businesses whose employees will have a harder time going to and from work.
What the Buendia-Makati Avenue-Paseo de Roxas Underpass Will Look Like
I myself had a hard time imagining where exactly the underpass will be. Here's a map from http://mmroadway.com/projects/buendia-underpass/:
Here's a 3D-ish picture from inquirer.net to help you imagine what it would look like when it's done: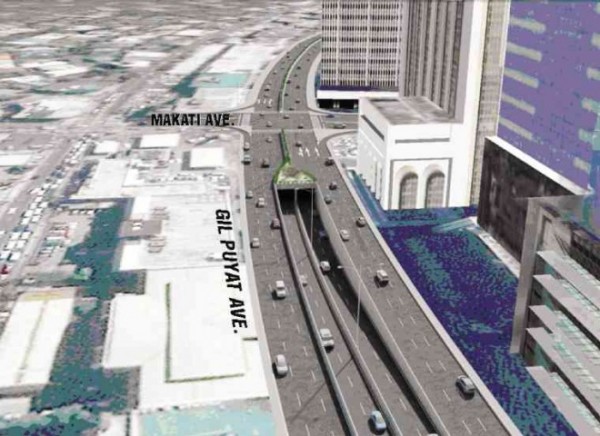 Alternate routes
The MMDA has apparently posted the video of alternate routes since September 9, 2014 but people didn't really pay attention to it since the project has not been started. However, with a recent Rappler article stating that the project will be started this week (June 15, 2015), this video has become a must-watch.
I wish they could make the alternative routes in 2D though. The video is too fast.
Implications of the Buendia-Makati Avenue-Paseo de Roxas Underpass construction
Definitely, we must accept that traffic jams are expected. When the roads are closed and vehicles are forced to take alternate routes which the drivers are not familiar with, traffic jams are sure to follow. And if you look at the alternate routes like I did, you will notice that the alternate routes are narrow (Jupiter, Nicanor Garcia, and Kalayaan for example), and the intersections too small (Nicanor Garcia and Jupiter intersection).
I have seen some real estate agents happy about this since they are harping on time wasted on traffic and at the same time extolling the benefits of condo living. It is possible that some people may choose to rent a condo nearer to their workplace and simply walk to and from work.
Businesses along the construction area may possibly weaken, while those along the alternate routes may have a possible uptick. I know of a company who moved its office from Buendia (along the construction area) to the Fort. I just don't know if this underpass is one of the reasons for their move.
According to the mmdaroadway.com website, the original timeline for the project's completion is from August 2014 to April 2016, so around 1 year and 8 months. If it will be started this June 2015, it may be finished by February 2017. Quite a long time.
Since a lot of constructions seem to be happening all at the same time, we can really expect horrific traffic almost everywhere at rush hours.
In any case, once these are all done, isn't it logical that real estate values will increase? What do you think?