Finally, RCBC Savings Bank has already posted a softcopy of their listings of foreclosed properties for sale in the upcoming Mega Property Auction at their website and they even posted an announcement for this. Both RCBC and RCBC Savings Bank foreclosed properties are included in the public auction on June 26, 2010, which shall be held at the Podium 4 Lobby, RCBC Plaza, Ayala Avenue corner Buendia Avenue, Makati City, Philippines. More details below.
"MEGA PROPERTY AUCTION!"

Metro Manila, North & South Luzon

June 26 2010 • Saturday • 9:30 AM

Podium 4 Lobby, RCBC Plaza,

Ayala Avenue corner Buendia Avenue, Makati City

For inquiries, please call:

RCBC Savings Bank – Retail Asset Management Division

Red / Alex / Jerome – 687-0839 • 638-5032

Property Partners

Ruth – 09182849176 • Bel – 09158577764

Tess – 09228696667 • Charlie – 09284927311

Hotlines:

975-1457 • 975-1456 •

975-1454 • 556-0910 •

Mega Property Auction AD (June 26, 2010)

*All transactions are subject to bank approval. Properties, rates and prices are subject to change without prior notice. The bank reserves the right to withdraw any property for whatever reason. Show money PhP 25,000.00 cash or MC per property. All properties are on *as is, where is* basis. Misprints should not be construed as misrepresentation of the property.

Source: http://rcbcsavings.com/?p=44
Click here to download the complete listing in pdf format or just click on the image below to download a copy in jpg format.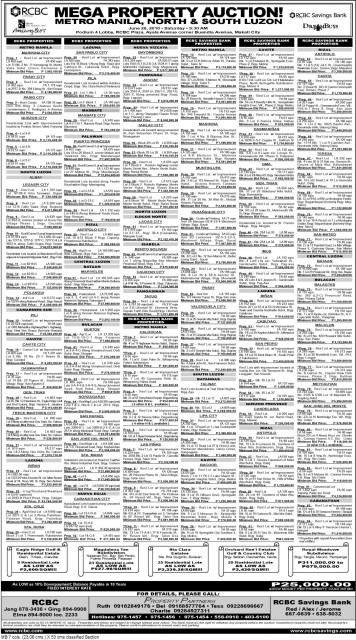 Quick tip:
If you will notice, there are properties that have an asterisk(*). I learned that these may have arrears (Home owner association dues, utilities, etc.) and these are now for the account of the buyer. Don't forget to confirm this for any property you might be interested in. Anyway, one should always confirm these before buying any property, whether foreclosed or not, as part of due diligence.
Don't know where to start?
Here are some articles that can help you get started:
What to expect when buying foreclosed properties
4 Steps To Quickly Analyze And Short-list Foreclosed Properties
How to turn listings of foreclosed properties into opportunities
31 Questions you need to ask when inquiring about a foreclosed property
To our success and financial freedom!
Jay Castillo
Real Estate Investor
Real Estate Broker License #: 3194
Blog: https://www.foreclosurephilippines.com
Follow me in twitter:http://twitter.com/jay_castilloFind us in Facebook:Foreclosure Philippines facebook page
Text by Jay Castillo and Cherry Castillo. Copyright © 2010 All rights reserved.