RCBC Savings Bank will be having another Dream Buys Auction of foreclosed properties on August 20, 2011, Saturday, 9:00am, at the L.S. Virata Hall, 2nd Floor, Development Academy of the Philippines, San Miguel Avenue, Pasig City.
As low as 10% downpayment is required, with the balance payable in 10 years, at fixed interest rates. Php25,000 show money is required per property in the form of cash or manager's check.
This public auction includes foreclosed properties that are mostly from Metro Manila.
Download the complete listing of foreclosed properties
A softcopy of the complete listing of foreclosed properties for sale included in RCBC Savings Bank's Dream Buys Auction on August 20, 2011 is ready for download below. Just click on the image to view/download (opens in new window).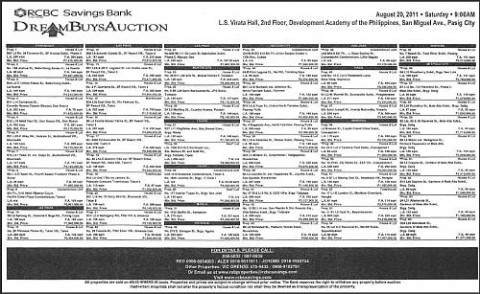 Properties with special concerns
Some of the properties on the list that are marked with an asterisk (*)  have special concerns. They may be occupied and/or have legal impediments. Don't forget to do your due diligence before bidding on any of the foreclosed properties on the list.
For more details, please call
638-5032 / 687-0839
Red: 0908-8854803 / Alex: 0918-9511811 /  Jerome: 09189903744
Other properties: Vic Orense: 470-9432 / 09089182781
The fine print
All properties are sold on "AS-IS-WHERE-IS" basis. Properties and prices are subject to change without prior notice. The Bank reserves the right to withdraw any property before auction. Inadvertent misprints shall not alter the property's factual condition nor shall they be deemed as misrepresentation of the property.
Happy hunting!
~~~
To our success and financial freedom!
Jay Castillo
Real Estate Investor
PRC Real Estate Broker Registration No. 3194
Blog: https://www.foreclosurephilippines.com
Follow me in Twitter: http://twitter.com/jay_castillo
Find us in Facebook: Foreclosure Investing Philippines Facebook Page
Text by Jay Castillo and Cherry Castillo. Copyright © 2011 All rights reserved.
Full disclosure: I am now an accredited broker of RCBC Savings Bank. If you plan to attend the auction on August 20, 2011, I would be more than happy to assist you. Just let me know by leaving a comment below. By the way, please keep in mind that broker fees are for the account of the bank.