RCBC Amazing Buys properties and RCBC Savings Bank Dream Buys properties will be auctioned off in the upcoming Mega Property Auction which will be on September 11, 2010, Saturday, 9:30am, at the Podium 4 Lobby, RCBC Plaza, Ayala Avenue corner Buendia Avenue, Makati City, Philippines.
The RCBC/RCBC Savings Bank foreclosed properties or acquired assets included in the Mega Property Auction are from Metro Manila, North and South Luzon.
Mega Property Auction Details
Properties can be purchased for as low as 10% downpayment, with the balance payable in 10 years, at a fixed interest rate. Not bad if you ask me, I already got used to past auctions from RCBC where 20% downpayment was the minimum required and interest rates are fixed only for the first 5 years.
Anyway, better call them up directly to confirm what interest rate they will give as this was not included in their auction announcement.
Only Php25,000.00 show money per property in the form of cash or manager's check is required to participate in this public auction of foreclosed properties.
Complete listing of foreclosed properties for sale
>>>Click here to download the list of foreclosed properties for sale in PDF format or click on the image below to download a copy in JPG format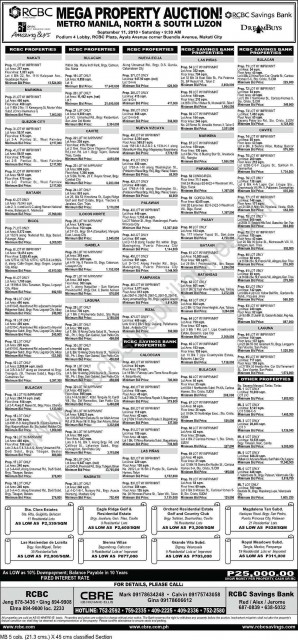 Source: RCBC Savings Bank
For details please call:
RCBC
Jeng 878·3436
Ging 894·9908
Elma 894·9000 loc. 2233
CBRE
Mark 09178634248
Calvin 09175743058
Gina 09178606612
Hotlines: 752·2592/759·2335/409·2225/409·2336/752·2580
RCBC Savings Bank
Red/Alex/Jerome
Checkout their websites
www.rcbc.com
www.cbre.com
www.rcbcsavings.com
The fine print
"All properties are sold on AS-IS-WHERE-IS basis. Properties and prices are subject to change without prior notice. The bank reserves the right to withdraw any property before the auction. Inadvertent misprints shall not alter the property's factual condition nor shall they be deemed as misrepresentation of the property."
*Looking for another listing? Click here to view all listings from RCBC, or click here to view all listings from RCBC Savings Bank.
Happy investing!
To our success and financial freedom!
Jay Castillo
Real Estate Investor
Real Estate Broker License #: 20056
Blog: https://www.foreclosurephilippines.com
Follow me in Twitter:http://twitter.com/jay_castillo
Find us in Facebook:Foreclosure Philippines facebook page
Text by Jay Castillo and Cherry Castillo. Copyright © 2010 All rights reserved.
PS. Don't be the last to know, subscribe to e-mail alerts and get notified of new listings of bank foreclosed properties, public auction schedules, and real estate investing tips. Inbox getting full? Subscribe through my RSS Feed instead!