A public sealed bidding of prime properties of the Philippine National Bank has been slated on May 20, 2011, Friday, 10:00am, at the 9th floor, PNB Financial Center, President Diosdado Macapagal Boulevard, Pasay City, Philippines. Included in the list of prime properties for sale are residential, commercial, and industrial properties, covering the Greater Manila Area, Northern and Southern Luzon, Visayas, and Mindanao.
Pre-Bidding Conference
A pre-bidding conference will be held on May 17, 2011, Tuesday, 2:00pm, at the PNB-SAMG head office. All interested bidders are invited to attend.
Complete list of the PNB prime properties for public auction
A complete list and details of the PNB prime properties for sale through public sealed bidding can be downloaded through the  following link. The list also includes the sealed bidding terms of reference, and contact info for inquiries.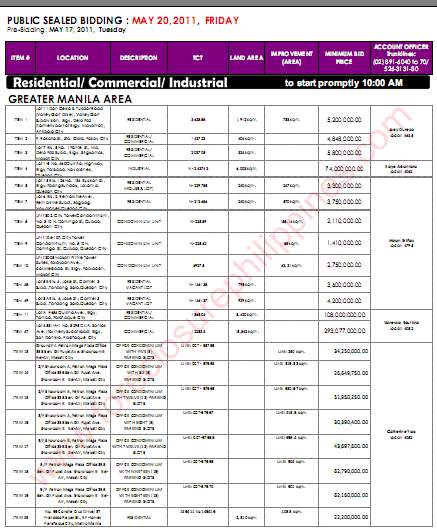 Happy hunting!
To our success and financial freedom!
Jay Castillo
Real Estate Investor
PRC Real Estate Broker Registration No. 3194
Blog: https://www.foreclosurephilippines.com
Follow me in Twitter: http://twitter.com/jay_castillo
Find us in Facebook: Foreclosure Investing Philippines Facebook Page
Text by Jay Castillo and Cherry Castillo. Copyright © 2011 All rights reserved.
Full disclosure: Nothing to disclose.

PS. Don't be the last to know, subscribe to e-mail alerts and get notified of new listings of bank foreclosed properties, public auction schedules, and real estate investing tips. Mailbox getting full? Subscribe through my RSS Feed instead.