The Philippine National Bank Special Assets Management Sector or PNB-SAMS shall be having another public sealed bidding of their prime properties on April 8, 2010, Thursday, at the 9th Floor, PNB Financial center, President Diosdado Macapagal Blvd., Pasay City. The bidding promptly starts at 9:00AM.
Take a sneak peak at just some of the properties that are included in this public sealed bidding of prime PNB foreclosed properties…
Item 22 – Residential Condominium
(click on the image to enlarge – opens in a new window)
Item 41 – House and lot
(click on the image to enlarge – opens in a new window)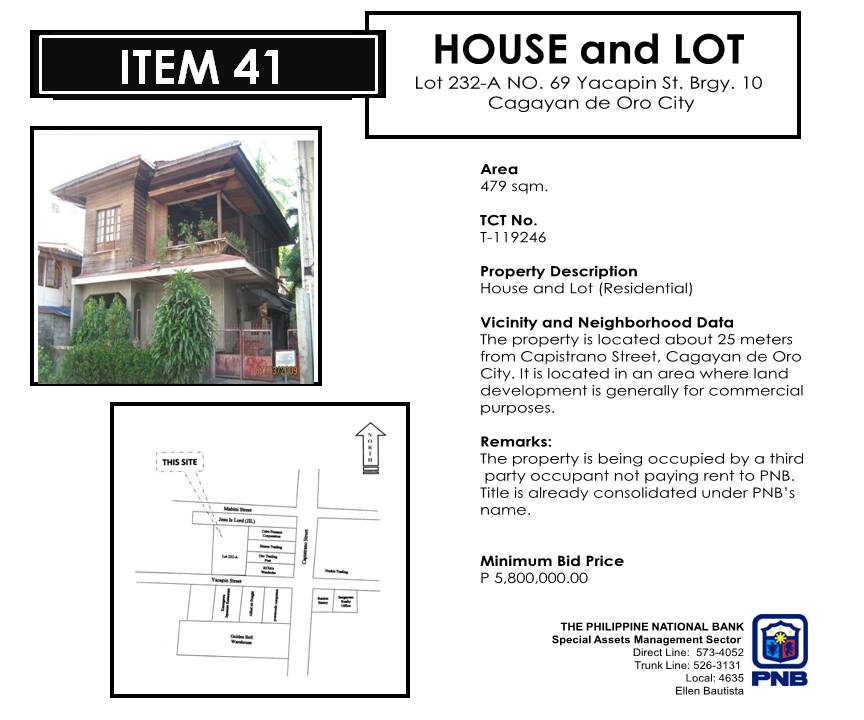 Click here or on the image below to download the complete listing of PNB properties for public sealed bidding
Interested? Inquire with PNB-SAMS directly through the contact details on the listing.
Happy hunting!
To our financial freedom!
Jay Castillo
Real Estate Investor
Real Estate Broker License #: 20056
Blog: https://www.foreclosurephilippines.com
Click here to contact me via E-mail
Mobile phone (Call/SMS): +639178843882
Follow me in twitter:http://twitter.com/jay_castilloBecome a Fan in Facebook:Foreclosure Philippines fan page
Text by Jay Castillo. Copyright © 2010 All rights reserved.
PS. Are you a new visitor? Click here NOW to start learning more about foreclosure investing in the Philippines.
PPS. If you know someone who might be interested in this post, please do share this to them. Don't forget to subscribe to e-mail alerts and get notified of new listings of bank foreclosed properties, public auction schedules, and real estate investing tips. Inbox getting full? Subscribe through my RSS Feed instead!