Here's another exclusive listing of foreclosed properties from ForeclosurePhilippines.com. Checkout Paragon Finance Corporation foreclosed properties for sale as of April 28, 2011. Please see more details and the complete list of foreclosed properties below.
Listing details
THEY ACCEPT 20-30 %DOWNPAYMENT, WITH THE BALANCE PAYABLE UP TO 10 YEARS, WITH AN INTEREST RATE OF 18% PER ANNUM. NO NEED FOR SO MUCH DOCUMENTATION, JUST TWO VALID IDS, PROOF OF BILLING, RESIDENCE CERTIFICATES AND PDCS.

BUYERS CAN OFFER UP TO 30% LESS, SUBJECT TO THE APPROVAL OF THE MANAGEMENT
Even though Paragon Finance Corporation is not so strict with buyers based on the lenient documentation requirements stated above, interested buyers on the other hand are advised to conduct a thorough due diligence for the properties that they might be interested in, as usual.
It goes without saying that foreclosed properties are for sale on an "AS-IS, WHERE-IS" basis, and this listing is no exception.
Personally, this is the first time I have heard of Paragon Finance Corporation and any feedback from those who may be familiar with them are very welcome and would be appreciated.
Paragon foreclosed properties list
Just click on the image below to open/download the list of foreclosed properties for sale from Paragon Finance Corporation.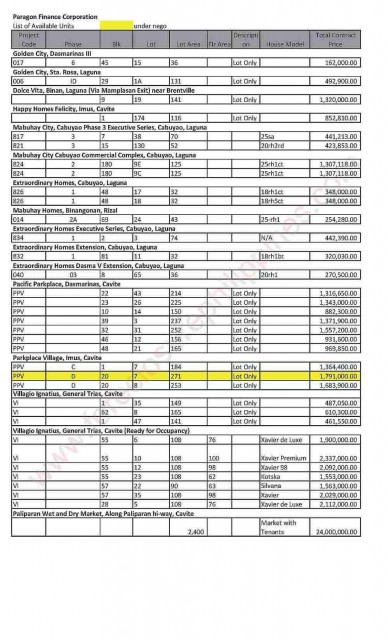 A PDF version is also available through this link: Paragon foreclosed properties for sale as of April 28, 2011
PRICES ARE SUBJECT TO CHANGE WITHOUT PRIOR NOTICE.
Happy hunting!
To our success and financial freedom!
Jay Castillo
Real Estate Investor
PRC Real Estate Broker Registration No. 3194
Blog: https://www.foreclosurephilippines.com
Follow me in Twitter: http://twitter.com/jay_castillo
Find us in Facebook: Foreclosure Investing Philippines Facebook Page
Text by Jay Castillo and Cherry Castillo. Copyright © 2011 All rights reserved.
PS. Don't be the last to know, subscribe to e-mail alerts and get notified of new listings of bank foreclosed properties, public auction schedules, and real estate investing tips. Mailbox getting full? Subscribe through my RSS Feed instead.