My mother-in-law gave me a copy of this listing of Tanay Rural Bank foreclosed properties which was listed in the September 2011 issue of District Dispatch, Centro East District, and I am sharing it here. Aside from foreclosed properties, Tanay Rural Bank also has repossessed cars and repossessed motorcyles for sale, just call them up directly.
According to the listing, the foreclosed properties can be purchased for as little as 10% downpayment, with the balance payable up to a maximum period of 15 years, at an interest rate of 15% per annum.
One thing in this list that caught my attention was it also include foreclosed properties that are still "under redemption*".
*For those who don't know, after a property has gone through a foreclosure auction sale, a former owner has the right to redeem the property for one year as per Act 3135.
The listing states further that "In case of non-consumation of sale due to adverse claim, buyer will be reimbursed the full amount with 12% interest per annum."
Anyway, to get more details, please contact Tanay Rural Bank directly through the contact details on the listing.
Download the complete listing of Tanay rural Bank foreclosed properties
Just click on the image below to download the complete listing of Tanay Rural Bank foreclosed properties as of September 2011.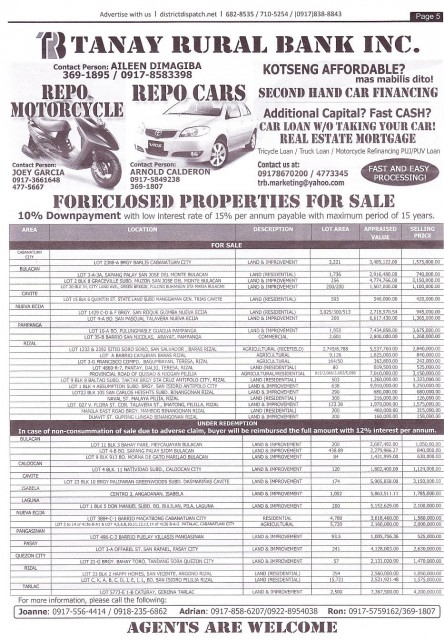 A PDF version is available here: Tanay Rural Bank foreclosed properties as of September 2011
Source: District Dispatch, Centro East District, September 2011 print edition
~~~
To our success and financial freedom!
Jay Castillo
Real Estate Investor
PRC Real Estate Broker Registration No. 3194
Blog: https://www.foreclosurephilippines.com
Follow me in Twitter: http://twitter.com/jay_castillo
Find us in Facebook: Foreclosure Investing Philippines Facebook Page
Text by Jay Castillo and Cherry Castillo. Copyright © 2011 All rights reserved.
Full disclosure: Nothing to disclose.
P.S. I am helping a fellow real estate investor market a  Quezon City Townhouse for sale located in Kamuning. This is also available through a rent-to-own scheme.  Please call/txt 09157603090/5059259 for more details. A video of the townhouse can be seen below.