After finding foreclosed properties that have a good potential Return On Investment or ROI as discussed in my last video (Video 2: How to estimate repairs, taxes, and ROI), there are more things you need to do before buying those properties. You need to do your due diligence. Learn how to do your due diligence by watching the video below.
Although people often hear the advice that doing due diligence is a must before buying a property, a lot of people still have no idea what due diligence is. Most don't even know how to do due diligence.
As a real estate investor, you should never buy a property without doing a reasonable amount of due diligence. This helps you avoid problematic properties out there that can cost you a lot of money, wasted time, and lost opportunities.
In the third installment of our 3-part video series on how to get started with real estate investing, I will explain in the most simple terms the importance of due diligence, what it is, and I will also share some tips on how you can do your due diligence, which you need to do before you buy a foreclosed property.
This is a long video (51 minutes) as it is full of actual examples and tips, and I also answered some of the top questions I have received through the comments. Grab your coffee, prepare to take notes, and watch the video below!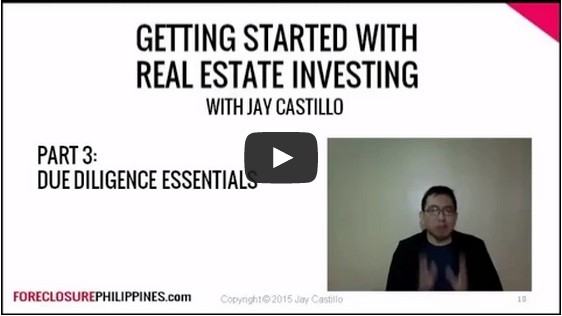 Click to watch Video 3: Due Diligence Essentials
Please tell me what you think by leaving a comment below the video, and don't forget to like and share. Thanks!