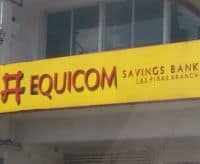 Here is the January 2012 listing of foreclosed properties for sale from Equicom Savings Bank, courtesy of Mr. Ronaldo Bartolome, Head of the Asset Management Department, Legal Remedial Division, Equicom Savings Bank.
These foreclosed properties from Equicom Savings Bank are for negotiated sale.
Areas covered by this listing includes the National Capital Region (Metro Manila), Northern and Southern Luzon, and Mindanao. Please refer to the complete listing below to get more details
Download the listing of Equicom Savings Bank foreclosed properties for January 2012
You may download the complete listing of Equicom Savings Bank foreclosed properties as of January 2012 below.
 Equicom Savings Bank foreclosed properties as of January 2012 (XLS)
Reminders
Sale is on an "AS IS WHERE IS" basis
Prices are subject to change without prior notice
Prices are negotiable subject to management approval
For more info
To get more details, interested buyers may send an e-mail to properties@equicomsavings.com.ph, or call/text the following numbers: 828-EQUI (3784) loc 221 / Mobile no. 0920-9496496.
You may also contact Ronald through telephone number 8560249. Alternately, you may also look for Jong Ilumin or Atty. Jess Matibag.
Happy hunting!
~~~
To our success and financial freedom!
Jay Castillo
Real Estate Investor
PRC Real Estate Broker License No. 3194 
Blog: https://www.foreclosurephilippines.com
Follow me in Twitter: http://twitter.com/jay_castillo
Find us in Facebook: Foreclosure Investing Philippines Facebook Page
Text by Jay Castillo and Cherry Castillo. Copyright © 2011 All rights reserved.
Full disclosure: If you acknowledge me as your referring real estate broker, a consummated sale shall entitle me to a broker's fee/commission  from the bank.
PS – January has been a very busy month for me and my family (my wife and I celebrated our 8th wedding anniversary and we also had our son's 7th birthday party) so please bear with me if I have not been able to answer questions posted through the comments section. If you need answers fast, just call me as mentioned in my "contact" page. Thanks!
PPS – The next listings I will feature shall be the RCBC Savings Bank foreclosed properties for public auction on February 4, 2012, and the Q1-2012 Buena Mano catalogs for the  Metro Manila, Luzon, Visayas and Mindanao areas. Don't forget to subscribe to get notified through e-mail once these are published.