This is just a heads-up that softcopies of the Buena Mano Q1-2013 catalogs for Luzon, and Visayas & Mindanao are now ready for download.
Both catalogs contain all property classifications which include Green Tag, Yellow Tag, and Red Tag properties.
More details can be found below.
Note: The Red tag catalog for Greater Metro Manila will be featured next.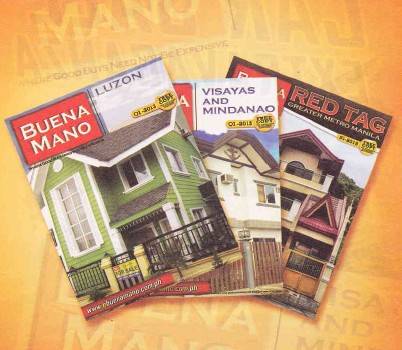 By the way, we have decided to consolidate all catalogs in one page where you can access the current catalogs including Metro Manila, Luzon, Visayas, and Mindanao, please refer to the instructions on how you can access them below.
Access the Buena Mano Q1-2013 catalogs
To access and download the catalogs, please click on the following link:
>>>Buena Mano Catalogs of Acquired Assets – Metro Manila, Luzon, Visayas, Mindanao
On the page above, you will also see payment terms, interest rates, answers to frequently asked questions, how to make an offer, a copy of the official offer to purchase form, and more.
Happy hunting!
~~~
To our success and financial freedom!
Jay Castillo
Real Estate Investor
PRC Real Estate Broker License No. 3194 
Blog: https://www.foreclosurephilippines.com
Connect with us – Facebook | Twitter | Blog RSS | Google +
Text by Jay Castillo and Cherry Castillo. Copyright © 2008 – 2013 All rights reserved.
Full disclosure: I am an accredited real estate broker of Buena Mano Property Sales and Leases. If you learned about this list of acquired assets through ForeclosurePhilippines.com, kindly acknowledge me as the accredited broker who referred you (at no additional cost to you). Other real estate brokers, agents, referrers are welcome, just call us for details!
Disclaimer: The properties on the catalog above are for sale on an "as is where is basis". All are advised to do the necessary due diligence before entering into a binding commitment financially or otherwise in relation to any of the listings of foreclosed properties published in ForeclosurePhilippines.com. Inadvertent misprints shall not alter the factual condition of any property published in ForeclosurePhilippines.com, nor shall they be deemed as misrepresentation.
P.S. I am selling what I consider to be an investment bargain in Las Pinas City. It is a townhouse unit located near SM South Mall and is in brand new condition (RFO). Only 10% downpayment is required to move-in. Check it out through this link: Spacious Las Pinas Townhouse For Sale – Reopened Unit in Brand New Condition!