In addition to the auction on December 12, Pag-IBIG shall conduct another public auction of Pag-IBIG foreclosed properties in Davao on December 21, 2016, at Jollibee JP Laurel Party Area, JP Laurel Avenue, Davao City. Auction details below.
According to the invitation to bid, this auction shall include a total of 59 foreclosed properties, that are located in various subdivisions in Davao City.
In addition, the invitation to bid also mentioned that a pre-bid conference will be conducted at 8:30am, and then sealed bids shall be received from 9:30am to 10:00am. Bids shall be opened immediately after the deadline of submission of bids.
Please refer to the invitation to bid for more details.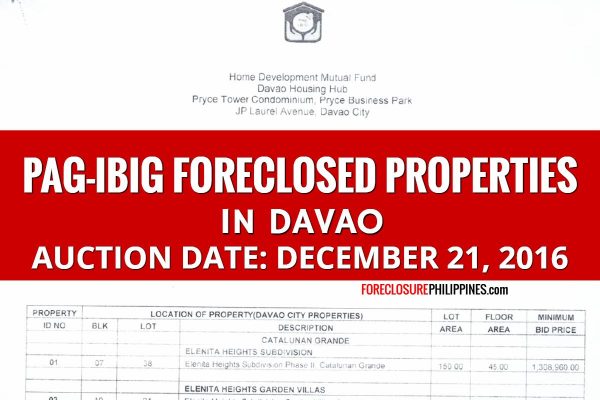 Invitation to bid, general guidelines, and list of foreclosed properties
[gview file="https://www.foreclosurephilippines.com/wp-content/uploads/2016/12/pag-ibig-foreclosed-properties-pubbid-2016-12-21-davao-no-discount.pdf"]
–
You may download a copy of the original invitation to bid for offline viewing using the link below:
–
Note: You will need Adobe Acrobat Reader to view PDF files, which is free to download at Adobe.com
Source: Pag-IBIG official website
For more details, please contact Pag-IBIG directly through the contact details specified in the invitation to bid above. You may also download the official forms directly from Pag-IBIG's website.
Full disclosure: Nothing to disclose. We are not accredited real estate brokers of Pag-IBIG. We are posting this as a form of public service because a lot of you have been asking for updated listings of foreclosed properties from Pag-IBIG.

Reminder: If you have any questions/inquiries, please contact Pag-IBIG directly through the contact details within the listings above, or visit their official website. Always transact with Pag-IBIG directly. Thank you for understanding!

P.S. If you like to receive more listings like this, you may also subscribe to e-mail alerts to get notified when we publish new listings.
P.P.S Click here to view other Pag-IBIG foreclosed properties auction schedules.
Do you want more content like this? Tell us so we can publish more, just leave a comment or like/share. Thanks!