The 235th Special Public Auction of UnionBank foreclosed properties shall take place on June 28, 2015, Sunday, 9:00am, at the UBP JACOB WAREHOUSE (Warehouse No. 2), Pasacola Road, Brgy. Nagkaisang Nayon, Novaliches District, Quezon City. This auction includes foreclosed properties from Luzon (includes Metro Manila and brand new Amalfi houses and lots), and repossessed cars. Auction details below.
As usual, the first auction starts at 9:00am and includes Metro Manila and Luzon foreclosed properties.
The second auction follows immediately and features the brand new AMALFI house and lots located at The Islands, Dasmarinas Cavite.
Auction for repossessed cars
There will also be a third auction which includes pre-owned vehicles/repossessed cars. I believe this is the reason why the auction will be held at their Novaliches warehouse, which stores their repossessed vehicles. Here's a vicinity map to the venue (click to enlarge):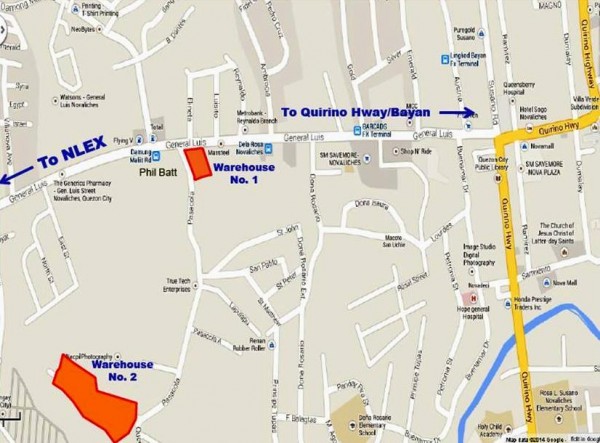 For more details, please contact Unionbank directly.
Download the list of UnionBank foreclosed properties and view other details
To access the complete listing of Unionbank foreclosed properties and to view other details like payment terms, minimum downpayment required, interest rates, etc., just visit the following page:
UnionBank Foreclosed Properties Auction Listings (Metro Manila/Luzon/Amalfi/Repossessed Cars)
Source: Ronald Panganiban, Asset Recovery Officer – Union Bank of the Philippines
Note: Only bidders with the required show money of Php20,000 (cash or Manager's Check) will be allowed to attend the auction.
Happy hunting!
~~~
Text by Jay Castillo and Cherry Castillo. Copyright © 2008 – 2015 All rights reserved.
Full disclosure: Nothing to disclose, we won't be able to attend this auction.