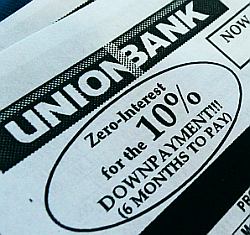 The UnionBank of the Philippines will be conducting two (2) public auctions on November 23, 2013.
One (1) is for the 209th Special Public Auction of Unionbank foreclosed properties located in Luzon and Metro Manila, which will commence at 9:00 a.m.
The other is the Auction for Brand New AMALFI units which will follow afterwards.
Both auctions will be held at the Function Room No. 1, 28th Floor of UnionBank Plaza, Meralco Ave., Ortigas Center, Pasig City.
Sorry but we won't be able to attend the auction so please coordinate with UnionBank directly if you are attending the auction.
To view the complete listing, auction terms and conditions, contact details, please click on the following link:
Happy hunting!
~~~
Text by Jay Castillo and Cherry Castillo. Copyright © 2008 – 2013 All rights reserved.
Full disclosure: Nothing to disclose.