The 174th UnionBank foreclosed real estate auction which includes Visayas and Mindanao foreclosed properties shall be held simultaneously on September 17, 2011 at Bacolod City (Business Inn, Lacson Street), Cebu City (Cebu Country Club), Cagayan De Oro City (The VIP Hotel, Don Apolinar Velez Street), and Zamboanga City (Grand Astoria Hotel, Mayor Jaldon Street). Auction proper starts at 9:00 AM. Interested bidders are reminded to come early to have enough time to register.
Interested bidders only need to bring PhP20,000 show money in the form of cash or manager's check to qualify to bid for each property. By the way, interested bidders are required to inspect the properties before they are allowed to bid as part of due diligence.
The foreclosed properties for public auction consist of residential lots, house and lots, townhouses, condominium units, residential buildings, commercial lots, industrial lots, agricultural lots, commercial space, and industrial / commercial warehouses.
Payment terms
Unionbank offers 5% discount on cash sales. Installment payment terms* are also available as follows:
Downpayment: 10%
Interest: 13% p.a. fixed for the first 3 years and 15% p.a. fixed for the next 12 years
Term: 15 yrs. (maximum) thru in-house guaranteed financing
*No credit checking! (as per auction announcement)
Download the list of UnionBank foreclosed properties
Just click on the image below to download the complete list of Visayas and Mindanao foreclosed properties for sale included in UnionBank's 174th Special Public Auction on September 17, 2011.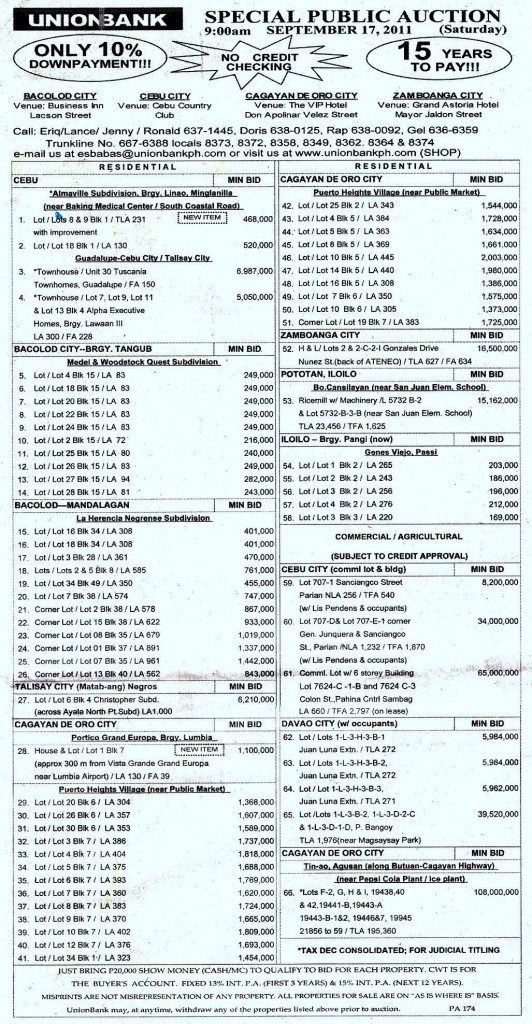 A copy of the listing above in PDF format is also available through this link: 174th UNIONBANK FORECLOSED PROPERTIES AUCTION VISMIN SEP-17-2011
View the pictures of the foreclosed properties
To view pictures of the foreclosed properties, click here. A snippet of the pictures can be seen below.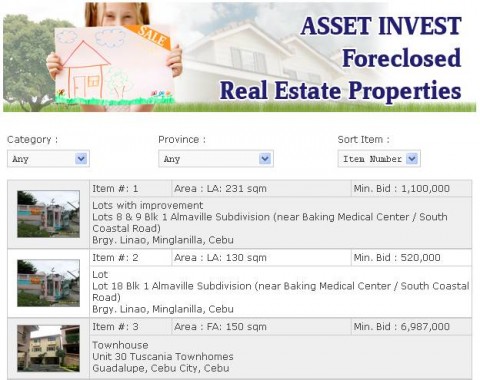 Property details
To know more about the properties, please contact the following
LANCE: 637-1445 or 667-6388 local 8362
ERIQ: 638-1445 or 667-6388 local 8373
DORIS: 638-0125 or 667-6388 local 8358
MARK: 667-6388 local 8349
RAP: 667-6388 local 8364
RONALD: 637-1445 or 667-6388 local 8372
OYO: 667-6388 local 8369
GEL: 667-6388 local 8374
The "fine print"

Happy hunting!
~~~
To our success and financial freedom!
Jay Castillo
Real Estate Investor
PRC Real Estate Broker Registration No. 3194
Blog: https://www.foreclosurephilippines.com
Follow me in Twitter: http://twitter.com/jay_castillo
Find us in Facebook: Foreclosure Investing Philippines Facebook Page
Text by Jay Castillo and Cherry Castillo. Copyright © 2011 All rights reserved.
Full disclosure: Nothing to disclose.