The 166th Special Public Auction of UnionBank foreclosed properties will be on March 26, 2011, Saturday, 9:00am, at the 29th Floor UnionBank Plaza, Meralco Avenue corner Onyx Road, Ortigas Center, Pasig City, Philippines. The auction starts promptly at 9:00am so interested bidders are reminded to come earlier to have more than enough time to register.
During the last auction
I attended UnionBank's 165th public auction to accompany business partners who were interested in one of the foreclosed properties for public auction on that day, and I must say that the auction was held in a very professional, and efficient manner. It was finished in about an hour and I was able to go back to Makati before lunchtime to help facilitate the Think Rich Pinoy seminar held on the same day.
During the auction, I couldn't hep but notice that one of the bidders was unable to raise his paddle on time when the property they wanted to purchase was up for bidding. In short, they lost their bid because the auctioneer already banged the gavel when they realized what was happening, and another bidder won uncontested. Tip: Bidders are reminded to promptly raise their paddles once the property they want is up for auction.
I also like the new auction venue at the UnionBank Plaza, it is so much better than the old venue, which was at the Philippine Columbian Sports Club in Paco, Manila. The auction venue is new, comfy, more accessible, is definitely safe and secure, and with more than enough parking.
*A big thank you goes out to Lance Yadao and everyone from UnionBank for the warm reception.
Download the list of UnionBank foreclosed properties
Just click on the teaser ad below to download the list of UnionBank foreclosed properties for sale through public auction on March 26, 2011, in JPG format(607KB).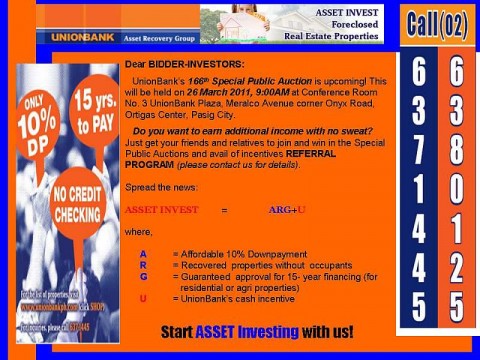 Copies of the listing in other formats are also available below:
PDF format: 166th-UNIONBANK-FORECLOSED-PROPERTIES-AUCTION.PDF(152KB)
Excel format: 166th-UNIONBANK-FORECLOSED-PROPERTIES-AUCTION.XLS(465KB)
Thanks again to Lance for giving us copies of their lists of foreclosed properties for sale!
To get more details
Please call:
Lance/Eriq/Ronald/Rap/Oyo – 637-1445, Doris – 638-0125, Mark – 638-0092, Gel – 636-6359
Trunkline No. 667-6388 locals 8372, 8358, 8349, 8362, 8364, 8374 & 8369
E-mail:
Visit their website
Reminders
JUST BRING P20,000 SHOW MONEY (CASH/MC) TO QUALIFY TO BID FOR EACH PROPERTY. CWT IS FOR THE BUYER'S ACCOUNT. FIXED 13% INT. P.A. (FIRST 3 YEARS) & 15% INT. P.A. (NEXT 12 YEARS).

MISPRINTS ARE NOT MISREPRESENTATION OF ANY PROPERTY. ALL PROPERTIES FOR SALE ARE ON "AS IS WHERE IS" BASIS.

UnionBank may, at anytime, withdraw any of the properties listed above prior to auction.
In addition, don't forget to do your due diligence BEFORE you bid for any of the foreclosed properties for sale!
Happy hunting!
Jay Castillo
Real Estate Investor
Real Estate Broker License #: 20056
Blog: https://www.foreclosurephilippines.com
Follow me in Twitter: http://twitter.com/jay_castillo
Find us in Facebook: Foreclosure Investing Philippines facebook page
Text by Jay Castillo and Cherry Castillo. Copyright © 2011 All rights reserved.
PS. Don't be the last to know, subscribe to e-mail alerts and get notified of new listings of bank foreclosed properties, public auction schedules, and real estate investing tips. Mailbox getting full? Subscribe through my RSS Feed instead!