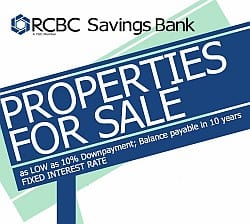 During the auction last month, it was mentioned that more foreclosed properties from RCBC Savings Bank will be available in their next auction this May 2012.
It's official! Their next auction which includes more foreclosed properties will be on May 19, 2012, Saturday, at 9:00am, at the 6th Floor, Development Academy of the Philippines Building, San Miguel Avenue, Pasig City, Philippines.
Aside from their new inventory of foreclosed properties, those left unsold during their previous auction(s) will also be available. The list includes foreclosed properties from the Metro Manila and Luzon areas.
Interested bidders only need to bring government issued ID's, show money of Php25,000/property in the form of cash or Manager's Check to participate and bid.
Auction terms
Minimum Downpayment
10% for vacant lots
20% for properties with improvements.
*Note: 25% downpayment is required to occupy a property.
Payment Term
The balance is payable up to 10 years at 12% annual interest rate. A shorter payment term can mean a lower interest rate.
*For installment payment, winning bidders are required to submit financial documents (usually within 5 working days after the auction) so that the bank can proceed with their credit investigation. Once the winning bidder passes the credit investigation, he/she will receive a Notice of Approval/Written Conformity from the bank, and the full downpayment should be completed approximately within 5 to 7 days from the Notice of Approval/Written Conformity.
A complete list of requirements for the purchase of a foreclosed property through a real estate loan can be found below: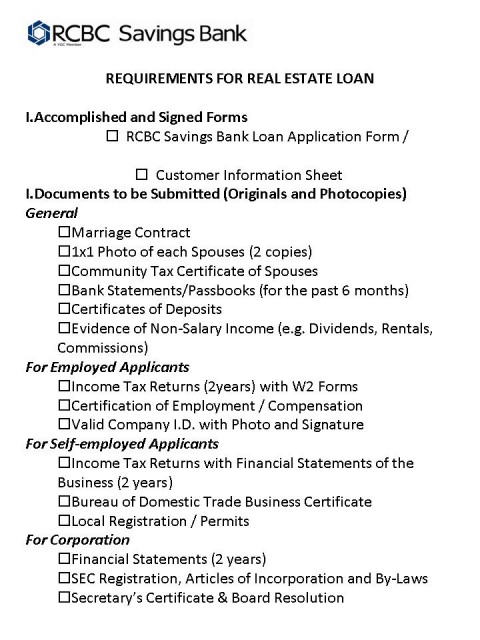 Things to remember before you inquire
1. The properties on the list that are marked with an asterisk (*) are properties with special concerns. I have highlighted these in yellow on the list below so you can see them easily. These properties may be occupied and/or have legal impediments. If this is your first time to invest in foreclosed properties, I highly suggest you skip these kinds of properties for now, unless you know what you are doing. Please be guided accordingly.
2. If you are interested but are currently outside of the Philippines: Please keep in mind that you need to have trusted relatives or representatives in the Philippines who can inspect the property for you as part of due diligence, and can sign contracts on your behalf (if you decide to proceed with the purchase), through an authenticated/consularized Special Power of Attorney or SPA.
3. If you plan to attend the auction on May 19, 2012 and get me as your real estate broker, I will give you a briefing on what to expect during the auction, and I will answer most of first-time bidder's frequently asked questions. Same goes for those who want to submit offers after the auction for unsold properties. Keep in mind that I myself have purchased properties from RCBC Savings Bank and I am confident my experience will help me serve you better, and this is at no additional cost to you.
Interested? Please fill-up the inquiry form below:
Download the complete list of foreclosed properties
Disclosure and disclaimer
All properties are sold on AS-IS-WHERE-IS basis. Properties and prices are subject to change without prior notice. The Bank reserves the right to withdraw any property before auction. Inadvertent misprints shall not alter the property's factual condition nor shall they be deemed as misrepresentation of the property.
For general questions about the auction, please leave a comment below. Thanks!
Happy hunting!
~~~
To our success and financial freedom!
Jay Castillo
Real Estate Investor
PRC Real Estate Broker License No. 3194 
Connect with us – Facebook | Twitter | Blog RSS | Google +
Text by Jay Castillo and Cherry Castillo. Copyright © 2008 – 2012 All rights reserved.
Full disclosure: I am an accredited real estate broker of  RCBC Savings Bank.