real eestate brokers licensure exam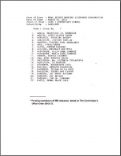 Here are the room assignments for the Real Estate Brokers Licensure Exam to be held on March 18, 2012. The room assignments I have found so far are for the ...
Read More › The Professional Regulation Commission (PRC) has just released the room assignments for the upcoming Real Estate Brokers Licensure Examination on March 27, 2011.  The list contains 189 pages and more ...
Read More ›