Tag: Internet Marketing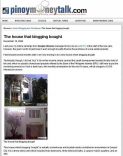 Imagine this, because of blogging and income from Google Adsense, you were able to buy a foreclosed house. That would be amazing right? But what if I told you that ...
Read More › I was blown away by how one can easily use Google Maps to feature foreclosed properties for sale. I stumbled on this yesterday when I had to create a vicinity ...
Read More ›