RCBC Savings Bank will be having another RCBC Dream Buys Auction of foreclosed properties on November 13, 2010, Saturday, 9:00am, at the L.S. Virata Hall, 2nd Floor, Development Academy of the Philippines, San Miguel Avenue, Pasig City, Philippines.
This list from RCBC Savings Bank contains 181 foreclosed properties with details that include the property address (most are from Metro Manila), lot area, floor area, and minimum bid price. Another 406 properties from various subdivisions are also on the list (see bottom of the listing) but you will have to call them up directly to get more details.
Some of the properties for public auction are properties with "special concerns". These are properties that are either occupied, have legal impediments, or both.
It's good that they segregated the properties with special concerns from the rest of the foreclosed properties properties for sale. Interested buyers who don't want to deal with such properties won't have to waste time inquiring about properties only to find out later that these have issues.
Download the foreclosed property listing
Click here to download a copy of the listing in PDF format or just click on the image below to download a copy in JPG format.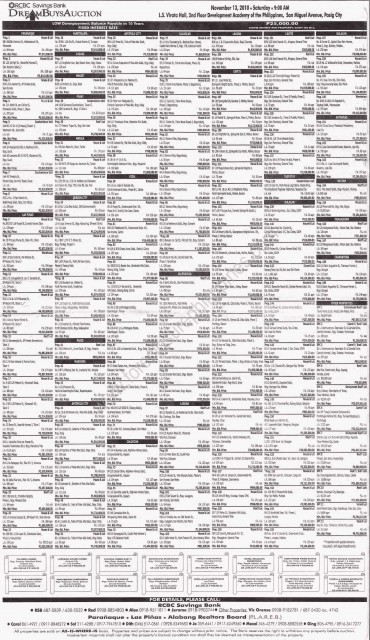 Source: Manila Bulletin, October 24, 2010 issue, page G-3
Auction terms
The foreclosed properties can be acquired at a low downpayment, with the balance payable in 10 years, at a fixed interest rate. As for he exact interest rate and minimum downpayment they offer, you will also have to call them up. Contact details are at the bottom of the list.
Reminders – please read
Only Php25,000 show money is required per property, in the form of cash or manager's check.
For more details, please contact RCBC Savings Bank or P.L.A.R.E.B. directly using the contact details on the list, which I have also posted below.
RCBC Savings Bank
RSB: 687-0839 / 638-5032
Red: 0908-8854803
Alex: 0918-9511811
Jerome: 0918-9903744
Other Properties: Vic Orense: 0908-9182781 / 687-5430 local 4742
Paranaque • Las Pinas • Alabang Realtors Board (P.L.A.R.E.B.)
Carol: 861-4921 /0917·8848272
Sol: 211-4288 / 09177947510
Dith: (046) 517-0561 / 0928-5249683
Jo: 359-6441 / 0917-5249360
Mazel: 346-4279 / 0908-8882558
Ging: 806-4795 / 0916-3417277
The fine print
All properties are sold on AS-IS-WHERE-IS basis. Properties and prices are subject to change without prior notice. The Bank reserves the right withdraw any property before auction. Inadvertent misprints shall not alter the property's factual condition, nor shall they be deemed as a misrepresentation of the property.
Happy hunting!
To our success and financial freedom!
Jay Castillo
Real Estate Investor
Real Estate Broker License #: 20056
Blog: https://www.foreclosurephilippines.com
Follow me in Twitter:http://twitter.com/jay_castillo
Find us in Facebook:Foreclosure Philippines facebook page
Text by Jay Castillo and Cherry Castillo. Copyright © 2010 All rights reserved.
PS. Don't be the last to know, subscribe to e-mail alerts and get notified of new listings of bank foreclosed properties, public auction schedules, and real estate investing tips. Inbox getting full? Subscribe through my RSS Feed instead!