RCBC Savings Bank's Asset Management and Remedial Group will be conducting another public auction of foreclosed properties on October 26, 2013, Saturday, 9:00am, at Max's Restaurant, G/F Star Mall, EDSA corner Shaw Boulevard, Mandaluyong City, Philippines.
Note: We are duly accredited real estate brokers and by inquiring through us, you agree to acknowledge us as your official broker/referror. We ourselves have actually bought several foreclosed properties from RCBC Savings Bank and we believe this puts us in a better position to assist you, and this comes at absolutely no additional cost to our buyers.
Interested bidders are advised to come early not just to have enough time to register, but also to have time for us to give you an overview of what to expect during the auction. Let us know if you are coming so we can reserve the best seats for you at the venue.
This month's auction includes foreclosed properties from the Luzon and Metro Manila areas, with a few properties from Misamis Oriental and Negros Occidental.
View the complete listing
To view the complete listing and pictures of foreclosed properties for sale through public auction on October 26, 2013, please visit the following link to our database.
189 out of the 255 foreclosed properties listed have pictures just like those on the print-screen below: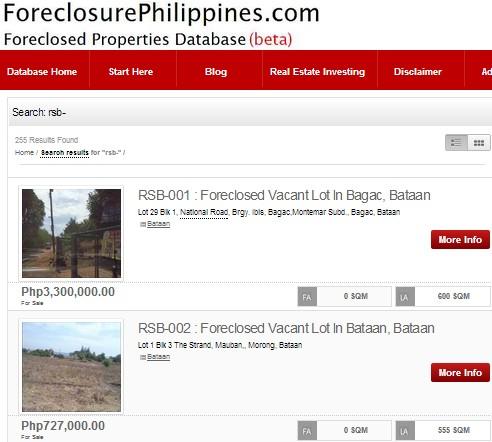 To access a downloadable listing in PDF format, please use the link below:
Disclosure and disclaimer
PRICES SUBJECT TO CHANGE WITHOUT PRIOR NOTICE.

Misprints should not be construed as misrepresentation of the property.

The bank reserves the right to withdraw any property for whatever reason.

All transactions are subject to bank approval.
Buyers' Inquiry Form
[contact-form-7 id="38131″ title="Property Forum Listings_rcbc_savings"]