In addition to the several public auctions to be conducted by the end of June mentioned in our last post, it turns out there will be an earlier one that includes Pag-IBIG foreclosed properties in Bulacan and Cavite, which shall take place on June 29, 2015. Get more details for the auction below.
The Pag-IBIG Fund Committee on Disposition of Acquired Assets shall conduct the public auction of 594 properties in Cavite and Bulacan at the 7th Floor, JELP Business Solutions Center, 409 Shaw Blvd. Mandaluyong City.
Here are sample pictures released by Pag-IBIG fund on their website (click to enlarge):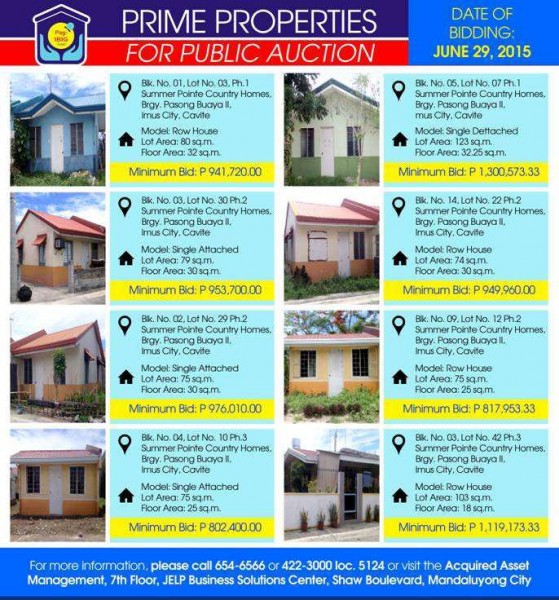 You may download the invitation to bid below, which includes the complete list of properties, general guidelines, and related documents for bidders.
Click to download Pag-IBIG foreclosed properties in Cavite and Bulacan for public auction on June 29, 2015
Erratum: Click here to view corrections released by Pag-IBIG with regard to the listing above
Source: Pag-IBIG Fund website

Full disclosure: Nothing to disclose. The bidding is for direct buyers only, and we are not accredited real estate brokers of Pag-IBIG. We are posting this as a form of public service because a lot of you out there have been asking for these listings.
If you have any questions/inquiries, please contact Pag-IBIG directly through the contact details in the listings above.
P.S. If you like to receive more listings like this, you may also subscribe to e-mail alerts to get notified when we publish new listings.